Benrinnes 11 Year Old 2008 Wee Brother Na Bràithrean
Wee Brother
0 087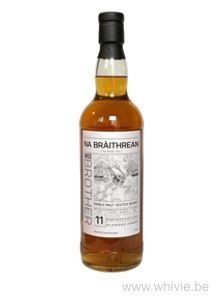 Nose

~

Taste

~

Finish

~

Balance

~

Overall

87
Distribution of ratings for this: brand user
Na Bràithrean (say 'na-brah-rin') means 'the brothers' in Gaelic. You've guessed it: this new independent bottler was founded in 2019 by two brother: Andy and Brendan. But they take it to the next level! There releases will also be brothers, meaning they will release them in duos: two whisky's from the same distillery, same vintage, but from different casks. The 'lighter' one will be the Wee Brother, the 'heavier' one the Big Brother. So far they have released two Glencadam 2011, two Caol Ila 2011 and two Benrinnes 2008. It's the final set that I'll be putting head-to-head, starting with the Wee Brother that was finished in a first fill oloroso octave.
Lovely sweet nose on butterscotch, rhubarb jam, hazelnuts, chocolate with praline filling and lemon sherbet. Mashed fruit with some lactic notes after a few moments. Inviting.
Nice mouth feel. Silky soft. Fruit, but with a drying edge. The rhubarb returns and is joined by some backed apples, lots of caramel and some moreish traits. The spices translate into cinnamon, vanilla and a whiff of saffron. Wonderfully sweet.
Long, very sweet and softly spicy finish with a wonderful trace of smoke at the death.
Impressive. Very accessible and sweet dessert. I like this one a tad better than the Big Brother, but then I do have a sweet tooth.
Find where to buy Benrinnes whisky