Black Bull Kyloe
Middle of the Road
0 078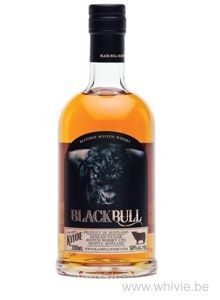 Nose

~

Taste

~

Finish

~

Balance

~

Overall

78
Distribution of ratings for this: brand user
Black Bull is a range of blends by independent bottler Duncan Taylor. I tried their 30 and 40 year old, which I really liked. This Kyloe was launched in 2014 and is a blend with a high proportion of malt. How much exactly is not known (bar to the people at Duncan Taylor, obviously). It is named after the wild bunch of cows that survive the cold Highland winters due to their thick fur.
It is candy-like sweet on the nose: Haribo bears and wine gums with a little hint of pears and apples, a single litchi and gooseberry. Young oak with a soft spiciness tries to lend it some depth, but to no avail.
It is quite sweet on the palate, although no longer candy-like. Fruity sweet, but with a sour edge. Grapefruit, honey, some nuts and a little bit of lemon juice. The spiciness is there, but less powerful than expected. Vanilla kicks in after the second sip and makes it sweeter still.
The finish equals vanilla.
Well, maybe I was expecting too much? But this is nothing special at all. Rather middle of the road. But for 25 EUR for a bottle, that's hardly unexpected, I suppose. Thanks, Pat!
Find where to buy Black Bull whisky