Blair Athol 11 Year Old 2009 Old Particular for Belgium
Fruit Confit
1 086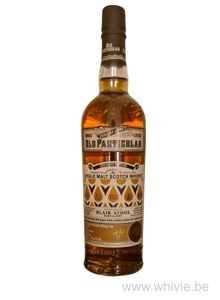 Nose

~

Taste

~

Finish

~

Balance

~

Overall

86
Distribution of ratings for this: brand user
This Blair Athol was bottled in August 2020 by Douglas Laing for a collective of Belgian whisky shops: Dram242, Jurgen's Whiskyhuis, De Straffe Hoek, Wine4You and Prima Vinum. Despite the fact that it was allowed to sleep on a sherry butt for 11 years, it can still boast an ABV of 62.1%. I've been forwarned.
Ha! This is nice. Very fresh nose that reminds me of spring. Quince, freshly cut grass, Reine Claude, mirabelles, Granny Smith, a buttered croissant and a truckload of flowery honey. And no, you wouldn't say it's this high in alcohol based on this nose.
Very creamy, almost syrupy on the palate. Honeysweet on the aforementioned fruit, but in candied form. Fruit Confit as they say in the French Provence. Nicely piquant too. That's both the ABV and the woodspices talking. My salive glands go into overdrive.
The finish is long, warm, sweet, spicy and simply delicious.
Yes, a great Blair Athol that balances beautifully between the sherry influcences and the distillery character. I quite love it. Thanks for the sample, Benny.
Find where to buy Blair Athol whisky