Dailuaine 11 Year Old 2004 SMWS 41.72
Spicy, Sweet & Fruity
0 086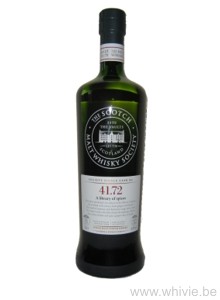 Nose

~

Taste

~

Finish

~

Balance

~

Overall

86
Distribution of ratings for this: brand user
While the Scotch Malt Whisky Society has recently put its range in new livery – with colors referring to taste sensations instead of whisky regions – I will try an older bottling from distillery 41. That is Dailuaine in the heart of Speyside. This is the 72nd cask from this distillery that the SMWS has bottled and it yielded 222 bottles at a whopping 60%. It was distilled on the 11th May 2004 and bottled on 23rd March 2016, so just shy of being 12 years old.
Spicy, sweet and fruity. I experience the nose in that order. Spicy from ginger, cloves and black pepper, sweet as from butterscotch and some molasses and fruity as in pomelo and apples.
The arrival is sturdy, but not scorching. A bit piquant, yes. Same order on the palate. Spicy, sweet and fruity. But also quite creamy. Reminds me of vanilla custard or crèmre brûlée, but flanked with a cup of espresso with a lot of milk foam.
The finish is long and surprisingly soft. Not a trace of oak, except in the big spiciness.
Yes, this Dailuaine's simplicity is excellent. Thank you, Gert, for the sample.
Find where to buy Dailuaine whisky