Glendronach 15 Year Old Revival Sherry Cask
Cloves
3 885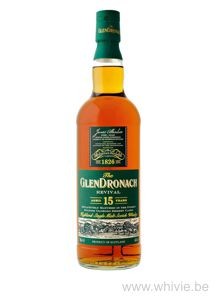 Nose

~

Taste

~

Finish

~

Balance

~

Overall

85
Distribution of ratings for this: brand user
The GlenDronach is hailed by many is one of the best malts this Speyside distillery has brought to the market. The fact that some releases contain much older whisky – because of depleted stocks of 15 year old malt, imagine that! – it is also very coveted. I tried it before, but gladly try it again, this time a Revival from 2015.
Yes, the nose is sherried wonderfully on balsamico, raisins, walnuts, but also sports some sulphur. I am reminded of new sneakers and even some washing powder. And while this could have easily gone towards an off-note, it does not. It works hand-in-glove with the sweetness that appears immediately after: dades, maple syrup and caramel. After breathing for a while, some chocolate with praline filling arrives, as does some Arabica coffee and mokantine. I'm sold.
It is quite oily and fills the mouth with loads of sherry notes: raisins, figs, dades, but also nutmeg and cloves. Lots of cloves! The sweetness from the nose returns in full force on the palate, upholstered with a touch of rubber that luckily does not go over the top. It flirts with that border though, which makes it intriguing.
The finish is medium long and shows some green herbs at the death.
The Revival – launched way back when Billy Walker gave the distillery a second lease on life – is a top notch whisky. Thanks for the sample, Jeroen!
Find where to buy GlenDronach whisky