Glenmorangie Sonnalta PX
Robust and stylish...
0 990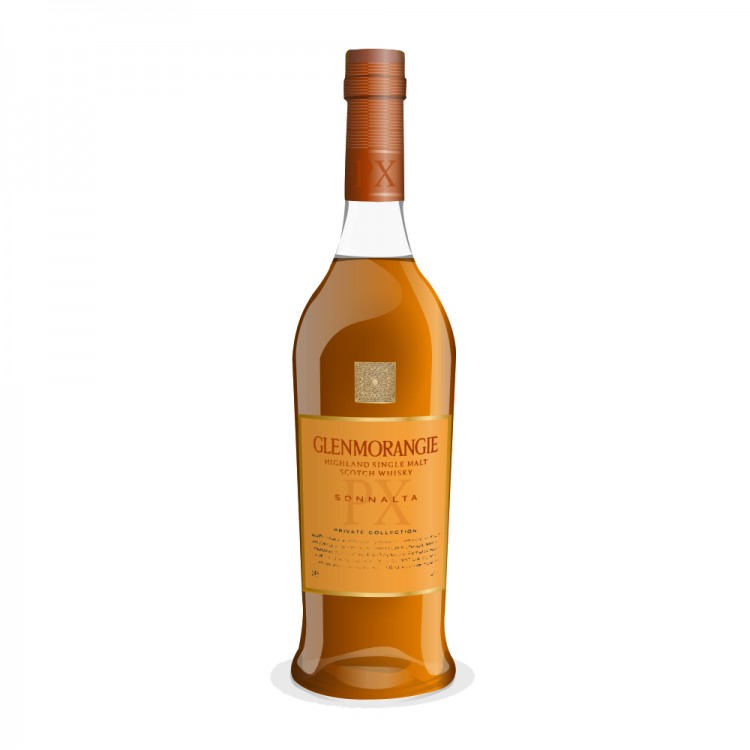 Nose

~

Taste

~

Finish

~

Balance

~

Overall

90
Distribution of ratings for this: brand user
I'm a bit green when it comes to Glenmo's special releases. I love the Sonnalta, but I haven't tried much else. I've had my heart set on a few of them over the years, but because of price and/or availability, they've always escaped me. So far this lovely sherried presentation remains the only one of these coveted releases that I've tried. I'd like to change that. But for now, here are my thoughts on the Sonnalta:
Nose: Right away I'm taken with how sweet this is. It's a veritable fruit basket here, with grapes, raisins, apricots, berries, apples, plums, peaches, and tangerines. Then we have Amaretto, brandy-esque floral notes, caramel, and big oak. Oddly, the thick, syrupy-sweet caramel notes with the prominent oak almost reminds me of bourbon. Ironic, as this also boasts big-time sherry aromas too. This is a complex, sweet, delicate nose.
Palate: Things get a bit bolder here. Creamy arrival. Very fruity, with grapes, apricots, tangerines and floral notes. Leather, brandy, and dark chocolate follow.
Finish: Vanilla comes in big here. More of that grapey/brandy note, malt, apricot, fresh cream, berries, leather, tobacco, cherries, cinnamon and roasted almonds. Behind all that is the Glenmo signature, which is like a creamy vanilla/marmalade note that lingers.
I need to familiarize myself with the bolder releases by Glenmo. They always seem like such light sippers to me. This one is a step in the right direction. Good abv, good intensity, and well-picked sherry casks. I like that they didn't skimp on the finish, giving it a solid two years in the PX casks.
This represents the sweeter side of sherried whiskies, and I often find myself reminded of Benriach 12 yo Sherry Wood. But this is better. Why? Aside from being more complex, it's also more refined. Despite being bold and rich, it's also retained a polished delicacy. As a Glenmorangie release, there's an intrinsic, built-in softness and gracefulness, no doubt a result of those towering 26-foot stills. It seems to be contradictory, but the boldness marries beautifully with the delicacy. It's brazen, yet sophisticated. I've enjoyed both the budget range and the overpriced Quarter Century. Seems the real gems are the mid-range annual special releases. This is the most robust and stylish release Glenmo I've ever tried.
Find where to buy Glenmorangie whisky