Kilkerran 12 Year Old
A wonderful symphony with... ambivalent ending
9 586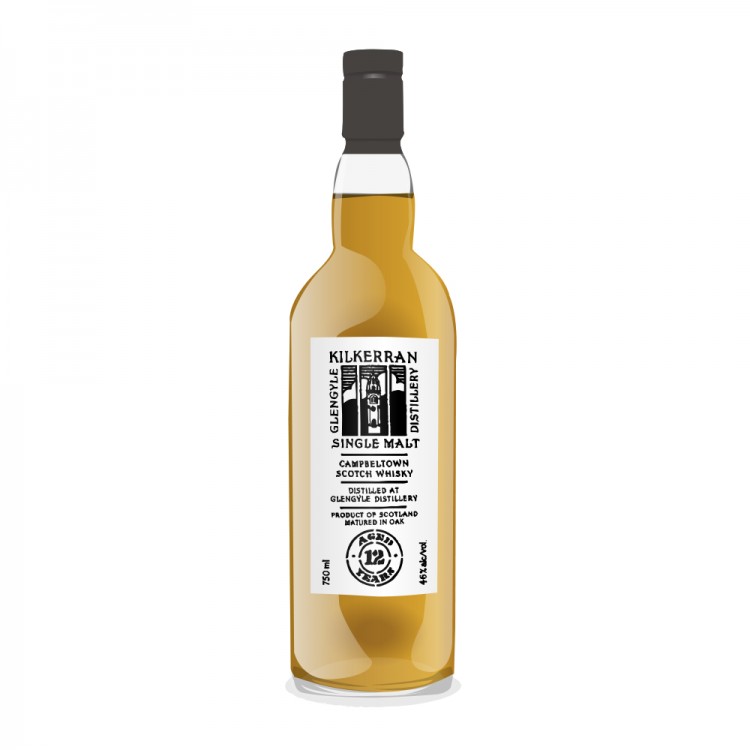 Nose

~

Taste

~

Finish

~

Balance

~

Overall

86
Distribution of ratings for this: brand user
So, after a lot of "Work in Progress" releases (nice idea, though I haven't had any opportunity to try any of them but I'm curious about a few as they have had raving reviews) Kilkerran has now released their standard 12 yrs bottling. First time I comment on design, but I do like the bottle! Comes in a sturdy tube (I do like those) and it's a non-assuming design without marketing hype which conveys that its the content that's priority No1 for these chaps, which is very pleasant after all the recent marketing hyperbole, Viking legends and peculiar NAS statement that seems to be the latest fad.
The nose is very pleasant! It has a malty sweetness which never becomes overbearing, and a light freshness to it. I pick up raspberry flavoured liquorice. No smoke or peat whatsoever. A ting of mustiness, but still youthful and happy. Promises of a great 'summer's dram'. Think of the thick white part of the peel of the gigantic lemons from the Amalfitan coast that the Italians eat and refer to as 'lemon bread'. There are some crispy cranberries in there too.
On the palate the attack is slightly effervescent (tingling on the tip of the tongue) and fairly strong (46%), but there's no element of alcohol bite or chemicals. The sweetness carries through - some powder sugar on the attack, and a pleasant oily viscosity. Similar to it's Campbeltown it rather invites to 'chew' on it for quite a while. That's chewing on the lemon bread. It has a wonderful balance and I can't help to wonder what it would be like with just a bit of peated barley.
The finish I'd describe as 'warming' and slightly longer than medium. It keeps lingering on for quite a while. And.... and now the tricky part... it's rather salty. Now, this is the one aspect that leaves me a bit ambivalent about this one... it doesn't strike me as the seaside mineral saltiness undercurrent that you'll find in some expression, but more like... table salt, up front. (Oh, I may get stick for this...). Honestly, I find it a little disturbing. Like a greatly executed Spaghetti alle vongole that's been slightly over-salted. Still a delicious dish, but for MY palate... I wish the chef had gone a wee bit more easy on the pinch(es) of salt. (If you scurry around the posts here someone (darn, I can't remember who) copied a link to a great article which deals with the saltiness in Campbeltown, which appears from nowhere, but is ever so present!
Don't get me wrong - I can see days where this saltiness is something I will particularly crave (like when having been for a long run and return home slightly dehydrated and without electrolyte loaded beverages in the fridge), but I'm not sure about the day-to-day...
All in all... a greatly enjoyable dram.. up to that finishing moment, in my opinion. Makes me curious to mix this 50/50 with a Springbank 12 and see if that keeps all the common elements of the two expressions that I love, but tones down that very last element of salty cacophony appearing in the finishing seconds of a hitherto wonderful symphony.
I'll give this one a respectable 86. And hope that some time in the bottle may affect it with time and have it approach the high 88 I give Springbank 12.