Lot No. 40
Pine Bark
0 279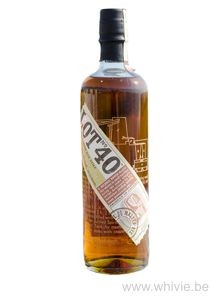 Nose

~

Taste

~

Finish

~

Balance

~

Overall

79
Distribution of ratings for this: brand user
Lot No 40 is a cheap rye whisky that was awarded 'Best Canadian Whisky' twice already (albeit at the Canadian Whisky Awards, first in 2013 and again in 2016 – funnily enough the year in which Jim Murray named the Crown Royal Northern Harvest Rye Best Whisky in the World in his (in)famous Whisky Bible. It is distilled in Windsor, Ontario, just a bridge distant from Detroit.
The nose starts on spices and wood. Pine bark! Quite some cloves and some mint. The first prickle quickly disappears to make room for some sweet notes like milk chocolate and corn on the barbecue drenched in sweet butter. Not bad, but not earthshattering either. The wood dominates, which I think is a pity.
The arrival is sweet and sour with again lots of woody notes. The pine tree returns. Quite herbal. Thym, cinnamon, ginger and cloves. Slowly evolves towards dark bread with sesame seeds. The corn on the barbecue evolves towards mildly salted popcorn, but the whole works. I would have liked this to be a tad sweeter though.
The finish is more of the same with lots of spices and wood. At the death, the tannins take control, leaving your mouth dry.
It probably me, but it is too dry, to woody and not sweet enough to enjoy neat.