Mannochmore 11 Year Old 2003 SMWS 64.59
Caoutchouc
0 084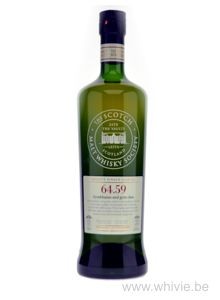 Nose

~

Taste

~

Finish

~

Balance

~

Overall

84
Distribution of ratings for this: brand user
It is well known that the panel comes up with very strange names for their single cask releases. But for this 11 years old Mannochmore from 2003 they made me raise my eyebrows. Ghymkhanas & Gym Class? The first is a reference to equestrian, the second to a gym room. This makes me curious.
A very bright nose on vanilla, apples, sugared waffles with both freshly cut grass and hay. All the way in the back a note of spearmint chewing gum appears and some caoutchouc. I find this quite pleasant.
Yes, a pretty sturdy arrival. The white fruit returns, as do some sweet elements like vanilla and sugar, but slowly but surely the alcohol is weighing in, making it a bit difficult to discover the other flavours. Some green grapes maybe? And something that reminds me of school chalk.
The finish leaves your mouth nicely warm but is also honey sweet on vanilla.
Again a very sweet Mannochmore, but this one is quite the powerhouse.
Find where to buy Mannochmore whisky