Tamdhu 16 Year Old 1985 Chieftain's Choice
Rum!
0 082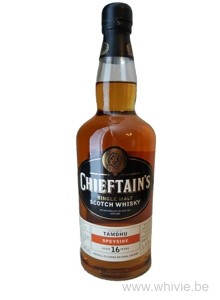 Nose

~

Taste

~

Finish

~

Balance

~

Overall

82
Distribution of ratings for this: brand user
This Tamdhu from Chieftain's Choice was distilled when yours truly was a few months shy of owning his very first moped. Sixteen years late it was bottle, meaning this malt by now has spent more time in the bottle than on the cask. Cask? Casks – plural. It's a vatting of two rum cask on which this malt was finished.
You immediately smell the rum! The cask influence is such that it's giving me a hard time to detect any single malt in there. It's more like a rum that was finished on a whisky cask. Well, that might be putting it too strong. There is a fruity Speysider underneath a fat layer of demerara sugar and candied pineapple. Apples and apricots appear, but then it quickly turns very candy-like.
The body is rather light and now the malt comes first: sweet barley sugar, apples, grapefruit, oranges, apricots and soft wood spices. The rum cask adds some dark notes, but contrary to the nose, this is clearly whisky on a rum cask and not the other way around.
The finish is medium long, bittersweet and somewhat drying. Coffee at the death!
It's not bad, but I would not pour me another one. I guess that says it all.
Find where to buy Tamdhu whisky