6:54 AM : Good morning Islay! What an awesome first day we had! Apart from all the whiskies there is something just so calming about this country side. Finished rather late last night thanks to my house mates.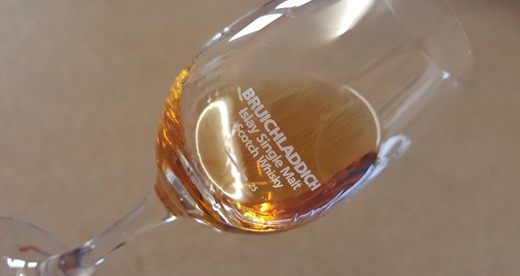 Bruichladdich, Bowmore, Kilchoman & Jura!
There is a Belgian couple and a couple of Swiss guys staying at the farmhouse with us. Which mean that the conversation inevitably moved to who makes the best chocolate! We all agreed that the Swiss do good milk chocolate while the Belgians are awesome at dark. Thrown in the mix was the 2014 Ardbeg Supernova to keep things lively!
8:00 AM : Stepping out now to go and visit the legend Jim McEwan at Bruichladdich. More on that in a bit.
9:30 AM : My friend organized a chat with Bruichladdich legend Mr Jim McEwan. What a legend this guy is. Made time for us simply to chat and talk about some of his whiskies and experiences. Treated us to the last drop of the 30 year old Bruichladdich. An honor to share a dram with this man! And what a dram it was.
11:00 AM : Got to Bowmore and was greeted with the longest line of people trying to purchase the Feis Ile bottling I have ever seen. Longer than Laphroaig. Decided against buying the Festival release so sauntered around the distillery ogling at some of the insanely expensive whiskies on display.
12:00 PM : Decided to head on over to Kilchoman for a quick bite to eat and organize a distillery tour. Took a really nice tasting for just five quid which included three really nice Kilchomans. The 2015 Loch Gorm, the Original Cask Strength and the Single Cask Cask Strength. Lovely whiskies all three of them.
1:00 PM : Sat down for some food at their cafe. Decent food but the highlight of the day was the warm brownie covered in Machir Bay with a scoop of ice cream. Just divine.
2:13 PM : Back at the farmhouse for a quick fresh up before heading over to Jura. It's been raining since morning so I hope we can still make it across in the ferry!
3:30 PM : After a perilous journey on the ferry we make it to the Isle of Jura for a quick tasting.
4:00 PM : Experience a truly innovative pairing - Jura whiskies with craft beer. Some lovely little beers in there. Lovely to taste and worked beautifully with the whiskies. Ended up tasting a single cask / cask strength Jura which has no name!!!! Just pulled it out out of the cask for the tasting. They didn't even know how much ABV it was. Gorgeous!
4:45 PM : Tasted the 18 year old Tastival - funny name that! - from Jura. Not entirely a bad whisky. It tasted even nicer when paired with the craft beer. Lots of chocolate banana and pineapple. Hint of peat. It's pretty decent if you ask me.
9:00 PM : Enjoying the end of the day with my whisky house mates!