8:12 AM : Woke up rather late thanks to a late night session of tasting samples collected during the day plus an impromptu screening of Lock Stock & Two Smoking Barrels in the family living room! Got dressed and rushed out for our Kilchoman Distillery Tour.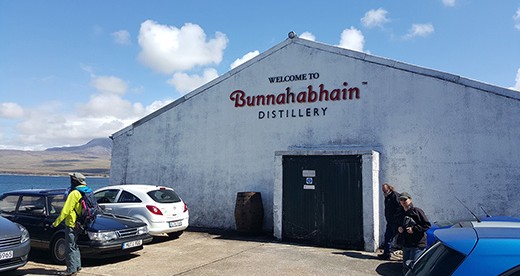 Kilchoman, Bunnahabhain & Caol Ila – another busy day
10:00 AM : If there's a distillery to tour I feel it should be Kilchoman. Given that they are only 10 years old it is very interesting to see how they've managed to marry good old fashioned whisky making with a modern approach to business. Quick tour given the size of the distillery ending with a couple of drams. The 100% Islay and the 2015 Machir Bay. Begged to have a sip of the Festival release but it was all sold out.
2:00 PM : After dropping a mate off to the airport headed to Bunnahabhain for their open day. Had to wait for 30 minutes in the freezing wind before getting on the bus to take us their. And let me tell you it was well worth it.
2:30 PM : Entered the distillery to much fanfare and music. Food stalls, beer stands and live music helped set the mood for a wonderful whisky event.
3:00 PM : Hand-filled three gorgeous whiskies straight from the cask into the bottle. What a lovely experience that.
Dipped the valinche straight into the casks and pulled out a seven year old 2nd fill, a peated eight year old 2nd fill and a 12 year old first fill Oloroso sherry matured whisky straight out from the cask.
All cask strength and all full of woody particles from the cask. Doesn't get much purer than this. And each one a delight to drink. Probably my best day on Islay so far!
4:45 PM : Stopped by at Caol Ila for a quick look. Super quiet with not a lot happening. Didn't buy the festival release. Still thinking about it.
5:30 PM : Stopped by at the Ballygrant Bar on the way back home and had a taste of the now sold-out Lagavulin Festival release. A very strong whisky. Super bold expression.
Nose: Burnt toast. Char. Smoke. Vanilla. Custard. Citrus. Lime. Oysters. Fruitier over time. Pears. Lemon sorbet. Opens up with some water.
Palate: Spicy. So spicy. The 59.9% really makes it self feel. That same vanilla and custard that I found on the nose. Lemon tart. Burnt toast. Charred fruits. With water it becomes more lemony. More fruitier. Certainly more palatable.
Finish: Long. Very long. Spicy. Lime. Clove.
Great finish to the day! Looking forward to my last day on Islay tomorrow and visiting my favorite distillery - Ardbeg!