Connosr were honoured to be invited to the unveiling of a new Balvenie expression - who wouldn't be? So we duly made our way to a rather swanky Islington venue where we encountered a few surprises.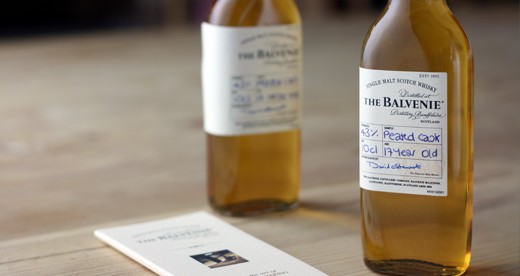 Walking through the door we couldn't help but notice that what appeared to be a large sand pit had been placed in the room. On closer inspection it turned out to be full of barley.
After an entertaining and lively introduction from Andrew Forrester, the Balvenie ambassador, we were encouraged to climb into the replica malting floor to get a feel for the raw materials of whisky production.
And so it was that we found ourselves sharing a dram and some conversation, with various whisky aficionados, whilst ankle deep in grain. We found this curiously pleasurable - so much so that we are thinking of installing one in Connosr HQ for our Friday afternoon meetings.
But Dr Forrester hadn't invited us there simply to bury ourselves in his barley pit, he wanted to share something far more exciting - a peated Balvenie expression. And rather wonderful it is too. Even better, we got to take a dram or two of Balvenie Peated Cask 17 year old away with us. We're going to spend a little time exploring its delicately smoky charms a little further then we'll let you know what we think in more detail.