Following the introduction of our new scoring system we are pleased to announce the amnesty period for re-scoring your existing reviews. You will be able to edit your review for the next 30 days.
Whisky scoring amnesty starts now...
What should I do now?
You can change the scores of existing reviews by two methods - simple scoring and advanced scoring. For more information on this see this post.
Please use this time to update your review scores using the new scale. If you wish, you can choose advanced scoring to add more detail.
To update a review rating click the "Edit review" button under the review listing on your profile page - as shown below.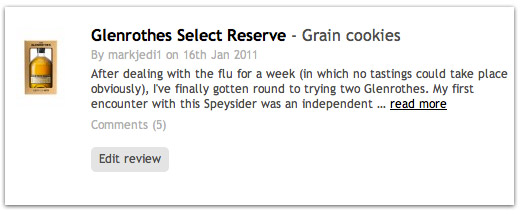 What shouldn't I do?
In the interest of consistency and for the benefit of other members who have commented on your reviews - or folks who are linking to your review from outside the site - please don't use this as an opportunity to re-write history.
Maybe you feel differently about a whisky now, or perhaps you feel that your palate and experience have given you new insights into it's flavours? If that is the case, and you would like to completely reappraise the whisky, please submit a new review.
For this reason, we haven't allowed you to alter the original text. So, if you are updating a score, please ensure that the new rating makes sense in the context of the review.
Are there any exceptions?
If you have a burning desire to change a review and have good reason to do so, get in touch with us and we'll see what we can do for you.