Auchentoshan 14 Year Old 1991 Douglas of Drumlanrig
To Forget Quickly
0 079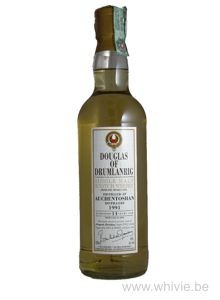 Nose

~

Taste

~

Finish

~

Balance

~

Overall

79
Distribution of ratings for this: brand user
It has become a tradition that I organize a so-called Toshan Man Birthday Tasting for my birthday. Due to corona, this is unfortunately online for the second year in a row. Hopefully live again next year. As the opener of that tasting – the apero, so to speak – we taste this older bottling of Douglas or Drumlanrig in which an Auchentoshan from 1991 appeared that was allowed to rest on a bourbon barrel for 14 years. I'm honestly a bit surprised with the relatively low alcohol content.
The nose is very simple. Cereals with some citrus fruit, a little butter, something of camphor and white pepper. If I'm being completely honest... it is quite boring and does not even smell pleasant.
It's a bit better on the palate, but it never gets big. Now I mainly get apples and lime juice, some banana and white pepper. Lemongrass. Licorice. A hint of kiwi. This is much better than the nose announced.
The finish is rather short, sweet and soft peppery.
Mediocre, really. Disappointing. An aperitif to quickly forget.
Find where to buy Auchentoshan whisky