Auchentoshan 19 Year Old 2000 Signatory Vintage Cask Strength Collection
Aperitifs
2 085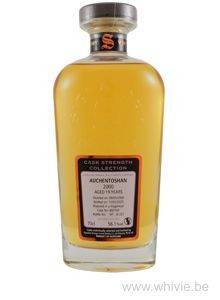 Nose

~

Taste

~

Finish

~

Balance

~

Overall

85
Distribution of ratings for this: brand user
I have quite a few single casks from Auchentoshan in my collection, that speaks for itself. But I don't have that many vintage 2000. This was bottled by Signatory in their so-called Cask Strength Collection, in those sturdy decanter bottles. It is a single hogshead at cask strength. It's is quite pale. Straw-colored, so to speak.
On the nose it is – for me at least – immediately coming home. Grass, lime, vanilla, dandelions. Nothing earth-shattering, it's true, but I really do like this profile. Aperitif whisky par excellence, it seems to me.
It is quite oily on the tongue. Nice and sweet with a bitterness. Think apples, lime, grapefruit and soft tannin. Although it's relatively 'simple', I cannot help but like this. After all, the aperitif time is my favorite whisky moment and this fits perfectly.
The finish is relatively long, surprisingly drying and just a tad too bitter to make a winner.
But I'm a fan, don't misunderstand me. About 150 EUR. I'm up for that, because it's good for a month of aperitifs.
Find where to buy Auchentoshan whisky