Auchentoshan 29 Year Old 1991 Blackadder Statement
Fig Jam
2 089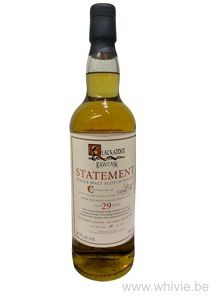 Nose

~

Taste

~

Finish

~

Balance

~

Overall

89
Distribution of ratings for this: brand user
For the 15th anniversary of Belgian importer The Nectar, a lot of whisky (and other spirits) was bottled and I'm lucky: there is another Auchentoshan! This was bottled by Blackadder and it's a belter. First of all, it is a single cask from 1991, which means that it is no less than 29 years old and secondly it was bottled at cask strength. There are only 100 bottles available – albeit at around EUR 600 per bottle. Sorry? That's more expensive than the official releases! Oh, well, we're going to taste anyway. The color betrays a sherry cask.
The DNA of my favorite triple distilled Lowlander is somewhat overpowered by the sweet notes from the sherry cask. Think raisins, Werther's Original, milk chocolate and candied sugar. Leather, dark honey, coffee liqueur and dates. Boy, this is very good. With water I get some chocolate and rum-raisins.
The mouthfeel is fine. Nice and oily. And the arrival is solid. Quite a bit of spiciness in the form of cloves and cinnamon, but also saffron and black pepper. The fruitiness now mainly translates to figs, raisins and roasted chestnuts, sprinkled with candied sugar and chewing tobacco. Although it doesn't need water, I still put a drop in it. That makes it a little sweeter (Tunisian fig jam) and more accessible.
The finish is long, spicy and drying. Even diluted.
Really a belter, but 600 EUR is very expensive, right?
Find where to buy Auchentoshan whisky