Balvenie 21 Year Old Port Wood Finish
Silky Port-wine dress
0 291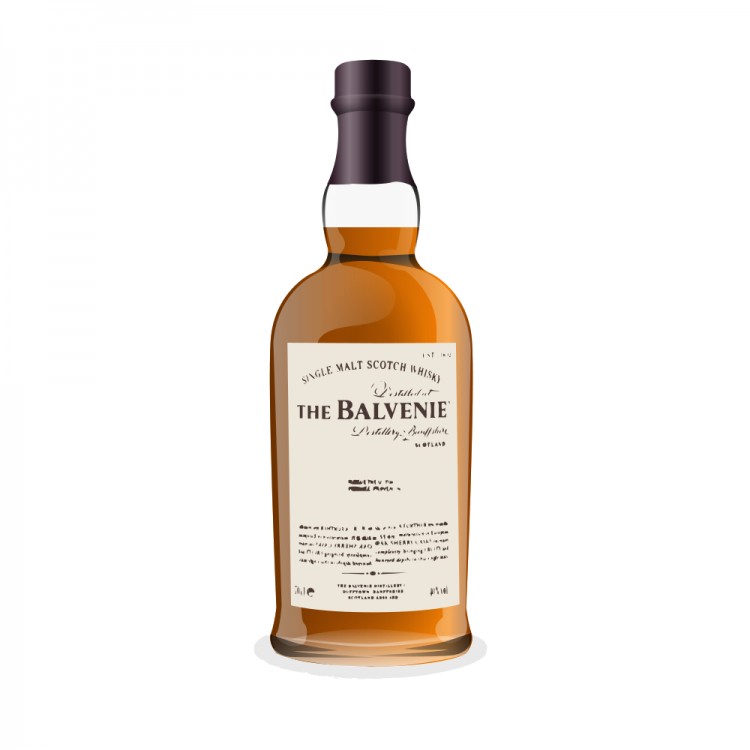 Nose

~

Taste

~

Finish

~

Balance

~

Overall

91
Distribution of ratings for this: brand user
It has been a bit of a bumpy ride with the Balvenie as far as i am concerned. Being a rather young and still inexperienced (although gaining fast) whisky enthusiast i started of with the signature in '06, liked it alot but got dissapointed by a couple of doublewood, rumwood and a madeira cask (reviewed this year).
The Madeira cask was the best alongside the Signature (which i don't rate, as although it was a good experience, i have to consider my "beginner" tastebuds).
This Portwood was a risky purchase but it was discounted heavily in the store (which seemed weird as Balvenie is still very popular) but there it was priced at a nice 99 euros (germany) so i grabbed it.
Nose: Light, sweet figues. Big grape (sweet&sour), milk chocolate and a wonderful mix of berries: Strawberries, raspberry, blueberry ice-cream? Seems like it! Creamy strawberry cheesecake with almonds. Very nice nose!
Palate: A weirdly bitter arrival that quickly shifts to an aromatic and tannic (but creamy!) sweetness. This sweetness is rushed forward by all kinds of red fruits that i had troubles to distinguish, but for those i could were strawberry (again), blueberry and guava. Creme brulée with milky vanilla cream, juicy malt and slight wood bitters.
Finish: The wood bitters carries us to the finish which entails a sweet spiciness (multuiple spices: Cinnamon f/ex) with bitter marmalade and some minted strawberry.
This was a delightfull Balvenie experience that for once didn't abruptly end in a short-lived "jaggy" finish. This malt re-instated some confidence in me regarding this distillery, although this seems to be a 2010 or pre-2010 bottling considering the strength (the latest is at 40% or 80 proof). It is still a relief and a pleasure to taste Balvenie when it is closer to it's best. A wonderfull tannic&fruity port complexity balanced by a juicy malt with a creamy overcoat that smoothes out the edges without dumbing it down to much.
From what i have tasted from Balvenie, this is the pick of the bunch, wish i could provide a more economical tip, but if you are feeling flush then this is probably my best port-wine finished malt so far.
Find where to buy Balvenie whisky