Blanton's Original
Blanton's-mania?
2 087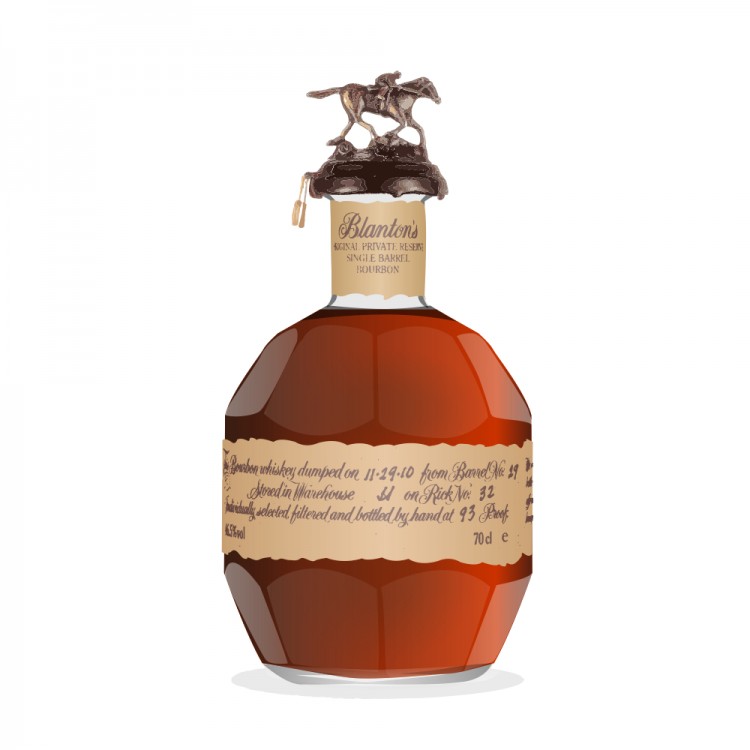 Nose

21

Taste

22

Finish

22

Balance

22

Overall

87
Distribution of ratings for this: brand user
Blanton's seems to inspire the type of frenzied devotion usually reserved for cult-leaders or The Beatles back in 1964. Before purchasing a bottle of Blanton's Original, I had only sampled (and reviewed) Blanton's Gold. I liked it, but it didn't inspire me to sell all my worldly possessions in order to devote my life to it. Maybe I'm just not that adventurous. Anyhow, I chanced upon some Blanton's in my local LCBO back in October or November and purchased some. Here are three sets of tasting notes, but if I'm being totally honest, this bottle was generally sipped from a tumbler, shared with friends, and served as more of a background whiskey most of the time.
Tasting notes, Dec 18 2019 (neat from a Glencairn)
Nose : bright, strong ethanol burn, lemons, oranges, cinnamon, light brown sugar
Palate: light bodied, dusty rye spices, freshly-sawed oak, a bit of cinnamon and ginger
Finish: relatively short, drying, plenty of vanilla lingering, and a farmy note reminiscent of an old barn (for real!)
Rating: 85/100
January 4 2020 (neat from a copita)
Nose : light cherries, a slight ethanol aroma/tingle, light brown sugar, oranges, wet hay
Palate: light bodied, toasted oak, light cherries, some rye spice, a bit of nutmeg
Finish: drying, more rye spice, slightly tannic, a bit of bright cherries, those farmyard notes lingering.
After a longer rest in the glass, there are some aromas and flavours jumping into the mix, mostly blueberries on the nose and a bit of chai tea on the finish. The key to this bourbon might be letting it rest in the glass for a good half hour or so.
Rating: 87/100
January 11 2020 (neat from a Libbey Bourbon Glass)
Nose: ethanol, citrus, barrel char, cherries, blueberries
Palate: light to medium bodied, bright, slightly honeyed, barrel char (or a touch of smoke)
Finish: medium length, cinnamon, tea, floral, somewhat "farmy" (wet hay or old barn, not unpleasant)
This bourbon seems to have a strong, solventy, ethanol aroma for the first 10-15 minutes it's in the glass. I understood it better as I got through this bottle (I have a backup). I like it, but I'm not sure I get the hype surrounding it. At $65 per bottle in Ontario, I think it's a bit overpriced and I would certainly never pay the crazy prices some people pay on the US secondary market. For the same money, I prefer Wild Turkey Rare Breed. It's fuller-bodied, it's got a wider spectrum of flavour, and it's bottled at barrel proof.
Final Rating: 87/100
Would I accept a glass of Blanton's if it was offered to me? Absolutely. It's a good bourbon, especially after a good rest in the glass.
Would I order this in a bar or pub? Unlikely. Bar prices are already too high and the perception of Blanton's as a "luxury" bourbon put its price point beyond what I'm willing to pay when I'm out with friends.
Would I buy another bottle of this? I guess it depends. It's unlikely, but you should never say never.
Find where to buy Blanton's whisky