Bunnahabhain Ceobanach
Peaty Bunna
5 783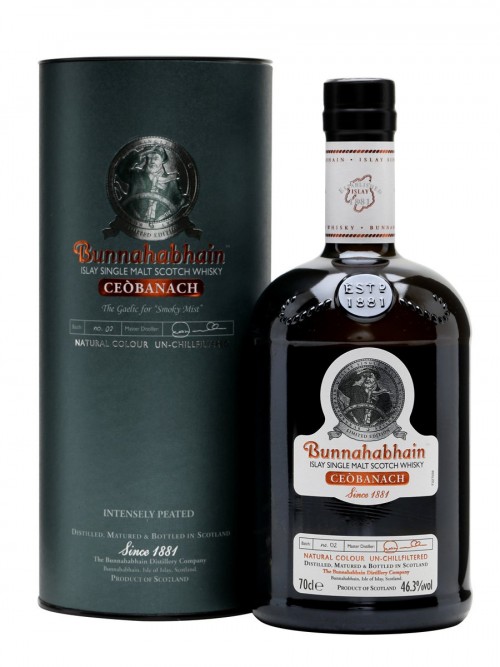 Nose

22

Taste

19

Finish

20

Balance

22

Overall

83
Distribution of ratings for this: brand user
This is the last dram of a bottle I gave to Pam for her birthday last year. Actually, it was the second bottle I bought; I left the first bottle in the trunk of my car on a hot August day (I didn't want her to see me bring it in), and when I went back to my car the next morning, all you could smell was peat smoke. Which isn't necessarily a bad thing, but combined with all the aromas my filthy car exudes...well, let's just say it wasn't pretty. The bottle basically exploded in my trunk. It took 30 minutes of arguing (and by arguing, I mean begging) for the LCBO to let me exchange it for a new bottle. And Pam nicely saved the last dram for me to review it.
The Ceobanach (Gaelic for "smoky mist") is one of Bunnahabhain's peated expressions (which they refer to as one of their "Moine" whiskies). It is pronounced "kyaw-bin-och" and was created by Master Distiller Ian MacMillan to recreate the style of whisky that would have been made when it was founded in 1881. It is not coloured nor chill-filtered, and although it has no official age statement, the label says that the whiskies within are at least ten years old.
The colour is a very pale straw. While you might expect the peat smoke to come out front and centre, it's actually the lemon pith that dominates. We also have brine, sweet malt, cucumber water, Band-Aids, unscented candle wax, anise and lavender. Laudry detergent? (and no, I didn't eat any Tide Pods today) Water does little for the nose. Very fresh, clean minerality with a nice light peating. Gentle to a fault.
Mouth-drying on the palate with peat, citrus, white pepper and nori. Not as complex as the nose, though - it's very nice but rather thin. Water adds more citrus and brine. I love the Islay style but this particular dram needs more dimension.
The finish is quite faint, though peppery with more brine and lemon pith. It's extremely easy to drink, perhaps too easy as it could really use more oomph.
Find where to buy Bunnahabhain whisky