Caol Ila 27 Year Old 1981 Duncan Taylor Rare Auld
Inexorable
0 086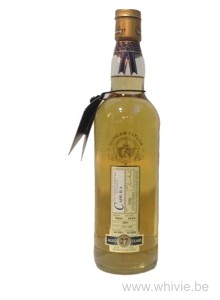 Nose

~

Taste

~

Finish

~

Balance

~

Overall

86
Distribution of ratings for this: brand user
I remember naming a Caol Ila 26 Year Old 1982 Rare Auld from Duncan Taylor 'on of the best Caol Ila ever tried' way back in 2013. Today I'm trying one from the same bottler in the same series, but it's a Caol Ila that went into the cask a year earlier yet bottled in the same year 2008. Will it be another great one?
Oh, that's quite an atypical nose! Instead of citrus and peat, the first thing I get on the nose is… cooked green beans and white cabbage. WTF? Then some Zwitsal baby shampoo and unripe bananas. The development of smoke is gentle. Only after a full five minutes in the glass does it open up and reveal its true nature. What a relief! That was a bit of a scare. But yes, it recovers fully and becomes wonderful on citrus, peat, seaweeds and mint.
Soft on the palate, despite the high ABV, but immediately the house traits show: ashes, citrus, peat, apples, barley sugar, brackish water… an inexorably good mix. And perfectly drinkable without water.
The finish is the best: long, salty versus sweet, mineral and smoky.
Grand Caol Ila that loses a few points because of the nose that made me go 'oh-oh' at first. Like I said: it recovers fully. Was around 145 EUR back in the day, today it's double or triple that amount, which is crazy. But what a dram!
Find where to buy Caol Ila whisky