Glendullan 13 Year Old 2000
Reine Claude & Mirabelles
0 085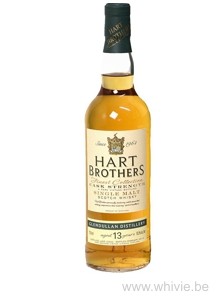 Nose

~

Taste

~

Finish

~

Balance

~

Overall

85
Distribution of ratings for this: brand user
Hart Brothers is an independent bottler founded by Donald and Iain Hart, but they sold the company in 2007. The new owners kept the name, though. Donald for his part founded a new company with his son Andrew: Meadowside Blending Company. This cask of Glendullan was bought by Donald way back when and bottled by the new owners some 5 years ago. At cask strength.
The nose is warm on vanilla custard, farmer's butter, baked apples, a fresh slice of lemon and something candy-like similar to butterscotch. Some Reinde Claude and mirabelles, gooseberries and a hint of rose water. Very summery and attractive.
The malt has a good texture. Pretty oily on the palate. Immediately very sweet, but also spicy. Think white pepper, liquorice, cloves and a pinch of cinnamon. There is even a salty edge, making it quite interesting. It does not crash against the sweet fruit, that turns towards peach and oranges. A touch of oak offers depth.
The finish is long and warm on spicy oak and baked apples.
This was a pleasant surprise. Glendullan just climbed a few places in my distillery list.
Find where to buy Glendullan whisky