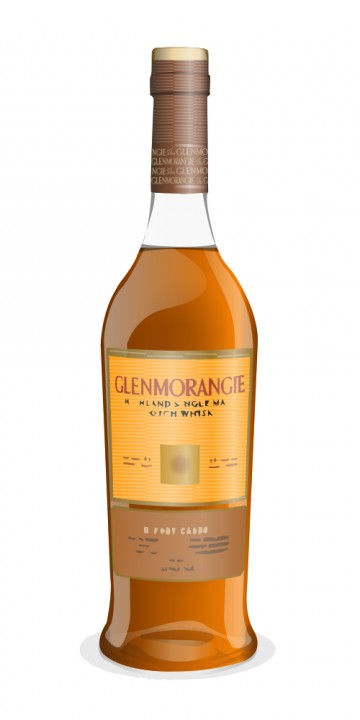 Glenmorangie The Tayne is a Glenmorangie Legends Series Travel Retail Exclusive
What does Bill Lumsden do with sulphur-tainted sherried whiskies? Why...sell them to people who cannot tell the difference and like them, of course
The Tayne Legends release is named after the Tayne Firth which is now called the Dornach Firth, on the shores of which the Glenmorangie distillery is located. There is a nice write-up on the bottle box which describes the sinking of a stray ship from the Spanish Armada in 1588 in the Tayne. The legend persists that there may be treasure remaining from this un-named ship at the bottom of the Tayne
The whisky has no age statement and is finished in Amontillado sherry casks. The bottle is newly opened
Nose: moderately strong intensity, strong sherry with strong matchstick sulphur; background Glenmorangie base malt. If you don't smell sulphur and love sherried malt you will probably love this whisky. For those who do smell sulphur this is smelling, literally, the bitter with the sweet. Water added raises the pitch, sweetens the whisky, lessens the noticeability of sulphur, and improves the nose. Score: 21/25
Taste: there is a near-exact direct translation of the nose flavours to the palate. The mouthfeel is silky and very beautiful. Water added paradoxically LOWERS the pitches in the mouth, bringing out the bass tones, the wood, and the grape tannins. Water lessens the noticeability of sulphur in both nose and mouth. Score: 21/25
Finish: very nice if you cannot taste sulphur; still likable even if you can. Water added continues the water-added palate and represents an improvement. Score: 20/25
Balance: Glenmorangie The Tayne retains much charm and merit despite the strong sulphur. With clean sherry casks this Glenmorangie The Tayne could have been a superstar whisky. Score: 21/25
Total Sequential Score: 83/100 points
Strength: strong flavours throughout. Score: 22.5/25
Quality: strong sulphur contamination accompanies some very nice flavours. Score: 18/25
Variety: plenty of variety, mostly within the fruity wine flavours. Score: 22/25
Harmony: retains charm despite the sulphur taint. Score: 20/25
Total Non-Sequential Score: 82.5/100 points
Comment: for those who cannot taste sulphur, Glenmorangie The Tayne will likely be an 88-93 point whisky
@Victor thanks for yet another awesome review. I have, over time, come to realize that I am not hyper-sensitive to sulphur. I had to do a fair amount of cross-referencing against writers who have a hyper sensitivity to it.
While, for example, I am not immensely bothered by Highland Park Dark Origins (which I have read has been mildly tainted with sulphur) i do take great offense to the Glenmorangie Companta (who's sulphur influence increased over time as the bottle stood open).
One whisky which made me gag and presented to me the full face of rotten eggs, garbage and sewer water was a 20 year old Tobermory bottled by Cadenhead as part of their Sherry Cask series. I'll send you a picture so you can avoid that one at all costs.
I'm still trying to figure out whether hyper-sensitivity to sulphur is a curse or a blessing. Maybe being slightly immune to it means I can enjoy more whiskies, such as this one.
Do you have a list of whiskies which you feel are mildly tainted? I'd like to compare those to my nose.
@MaltActivist, thanks for joining in. My own awareness of the presence of sulphur in whiskies has grown greatly with experience, as has my intolerance to it. A couple of years ago I would say that I had a minor annoyance to sulphur, and it was ok if present in small amounts. Now it is the first thing I notise if it is present in a whisky, and it is unusual if I can enjoy the whisky much at all if I notise sulphur. Glenmorangie The Tayne was very enthusiastically received by both my wife and by my sister. They really didn't notise the sulphur enough to be bothered by it. They would probably have rated it around 90 points.
I feel as you do that it is difficult to decide whether sulphur awareness is more a blessing or a curse. On the one hand it means that the person who noses and tastes sulphur has a more developed and refined nose and palate with respect to that parameter, but on the other hand it renders many whiskies incapable of being enjoyed. I really do wish that I could enjoy whiskies that taste completely ruined to me, but that others think are great...because those others cannot perceive sulphur. But nowadays I really am completely unable to enjoy those whiskies.
Some examples of sulphur-tainted whiskies:
1)almost all batches of Glenmorangie La Santa, until about 1-2 years ago, when some clean La Santa finally appeared
2)Glen Moray Port Cask Finish
3)Highland Park Dark Origins. I've sampled from two different bottles of Dark Origins. One of them was strongly sulphur tainted, but could still be enjoyed despite it; the other was completely undrinkable and had nothing to taste but sulphur.
4)I have not liked the sherry quality of both of the two bottles I have sampled from of Glendronach 15 Revival. I expected from reports that that would be a new favourite of mine, and was very disappointed when it was not. Could other bottles/batches of it be much better? Of course they could. There is a lot of variation in whisky. Were these as sulphured as the prior three examples? No.
5) Macallan 18 yo Sherry Cask, 1991. It was still an enjoyable whisky despite some obvious sulphur contamination.
6)Mortlach is famous for having some very sulphury releases, but I don't have specific expressions to cite. A clean release of Mortlach is very much the sort of thick style of whisky which I love.
7)Glenmorangie Companta had very slightly noticeable sherry at first opening of the bottle,...BUT, as you noted, air exposure really brought it out and the sulphur quickly became heavy and oppressive. I didn't notise the sulphur at all with Companta until the bottle was open for awhile.
Some examples of very clean sherry:
1) Amrut Intermediate Sherry matured malt
2) Macallan Cask Strength (North American release)
3) Glenmorangie Sonnalta PX
4) most batches of Glenfarclas 15 yo
5) Glendronach Cask Strength, Batch # 2
6) Macallan 12 yo Sherry Oak is usually pretty clean in its sherry
7) Aberlour A'bunadh rarely has any but the most minor sulphur influence, thank God!
For the sulphur-sensitive it is now rare to find a completely clean Scottish malt with a wine cask maturation involved. I am now very much in a "taste first" mode with respect to wine cask malts from Scotland. My sister is not so sensitive about any of this, so I get to try the many bottles she buys.