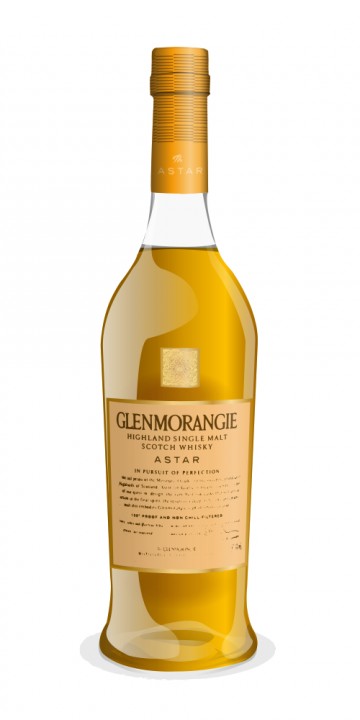 The Astar is a beautiful example of a wood-driven designer whisky. It is made from 'slow growth, air seasoned, heavily toasted, lightly charred, ex-bourbon American oak barrels'.
It doesn't have an age statement but is in the 9-10 year range. It certainly has more character than the standard 10 - thanks both in part to higher ABV and the careful selection of very good oak.
Apparently newer 10 year olds have a lot of this Aster type liquid in it to give it that extra edge. So that should be something interesting to look forward to.
And if you prefer your Glenmorangie without any fancy wine finishes then this dram is the one for you.
Nose: Immediate lemon sharpness softened by warm butterscotch hard-boiled sweets. Lots of honey vanilla on fruit cake with a sprinkle of almonds. It's quite a sweet treat as the fig and raisin trifle comes through quite strongly as well.
Palate: Raisin sweet at first and then the white spices. Honey with lots of fruits; mainly papaya. Nuts. And freshly baked Danish butter biscuits.
Finish: Long with tropical fruit spiciness to it.
This is a gorgeous dram and sits well among it's peers in the Private Edition series.
@MaltActivist , I still think you're in the majority, in terms of having decent bottles. Mine is a 70cl bottle, probably 2012. I'm suspecting that the 1L (travel retail) bottles and the 750ml bottles (US) may be different, but it's just a guess. I would also guess the travel retail bottles are older (before 2012), because I think they have not been marketed there for a few years. But it is frustrating to experience the downside of batch variation... I remember seeing it in the Top 50 of this website (even top 25?) a few years ago, and so developed high hopes.
@FMichael , I had read somewhere that Glenmorangie has been modifying the 10yr Original by gradually integrating Astar manufacturing methods. So it could be that the Original has just become better-- and so the Astar seems less substantial in comparison?
@vanPelt you're right the Astar does not form part of the Private Editions range - my bad! The PEs are Sonnalta PX, Finielta, Artein, Ealanta and Companta.
I just wrongly assumed that it was part of that series.