Lagavulin 16 Year Old
L0348CM000 07359725
0 394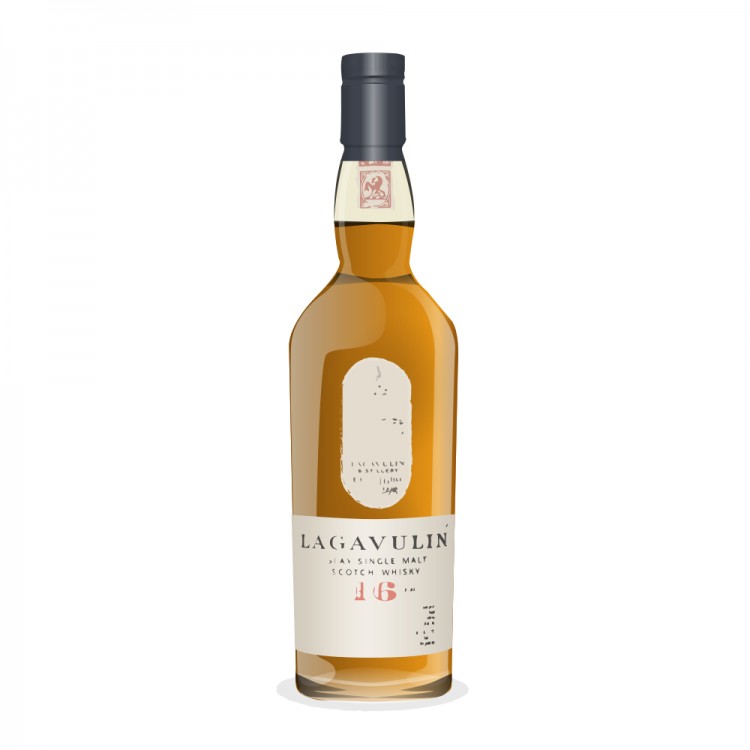 Nose

~

Taste

~

Finish

~

Balance

~

Overall

94
Distribution of ratings for this: brand user
Lagavulin 16yo 43% OB, L0348CM000 07359725 (not sure what the numbers mean): bought and opened 5/25/2011
Lagavulin and I have a sordid history. The very first tasting notes I ever wrote down involved Lagavulin 16yo in the summer of 2001. I had just bought my first bottle of Glenmorangie 10yo and to better get to know scotch I bought that old six pack "Classic Malt" set of 50mL miniatures. I am sure you are familiar with those 6 bottles. I can still remember my first taste of Talisker 10yo . . . I thought it was horrible. So I wrote down something simple to that effect. Then I tried Lagavulin 16yo, and my tasting notes from that night simply read: NEVER BUY!
Fast-forward a few years. Highland Park turns me on to peat. I remember that experience with Talisker and Lagavulin, and I ended up with a bottle. However, I quickly discovered Ardbeg and Laphroaig. And Lagavulin has really always played 3rd fiddle to Ardbeg and Laphroaig in my heart partly because of price, partly because of Diageo, and partly because I just tend to like younger whisky. However, Lagavulin is my wife's favorite single malt scotch. She almost never, ever drinks the stuff . . . but if you were to ask her that is what she would say. Further, one of her favorite cocktails is a Blue Stormy Martini – a gin martini (2 oz Plymouth Gin, with ½ oz Lagavulin 16yo instead of Vermouth, and a blue cheese stuffed olive). So needless to say I have a great excuse to always keep a bottle of Lagavulin 16yo around. Sadly, it tends to stay around with lots of air for quite a while. I bought this bottle in the summer of 2011. And I just finished it off the other week. Remarkably, it has stayed consistent great over the 2 years it has been opened. The following is a compilation of several tasting notes over the course of two years.
Nose: Rich and inviting peat. This is smooth elegance in a glass. A woodsy peat greets your nose. Then comes a rich sweetness. It is a very complex and mellow sweetness like over ripe plumbs or dates. It is a very low tone sweetness. There is a velvet and purple quality to this nose. I would swear that there are a few sherry casks in this malt. After some time the peat all but seems to disappear into the background woods with the sweet sherry fruit coming to the fore. Behind that you can easily pick out leather, pine needles, pine cones, dried bark, and moss. Really one of the great single malt noses. Lagavulin really hits where it needs to at this age statement: refined elegance, complexity, and power. With more time the peat almost disappears completely.
Taste: Very balanced on the tongue with semi-sweet peat. Some leather, earth, armchair, smoke, and peat. Lovely and well integrated. There is some vegetable matter in the background. Nothing off or bitter as it sits on the tongue. Quite lovely actually.
Finish: A big intake of breath . . . then comes the wave of peat smoke and fire. The sea salt sears your mouth eliminating any trace of resistance. Beautiful and lovely. Not the biggest finish of the big 3, but still lovely and long. There is a hint of something bitter . . . tree bark? . . . but it is replaced by other mellowing agents of sweet peat, salt, leather . . . It is like liking an old barrel that has been sitting in a smoking den: tons of ash, wood, peat, and dirt. Leather mingles with seaweed and pencil shavings. This is an Oxford professor's drink. Medium long finish.
Complexity, Balance: This is one of those amazing malts that seem to deftly walk a line between power and elegance; smoothness and ferocity; sweet and bitter: subdued and intense. And it does so brilliantly. It is not only one of the most complex malts out there, but also one of the most balanced. The peat and smoke play well into the mystery of the earth, wood, fire, sweet chocolate, maple, sea salt, and leather. It is all a huge dancing web of mystery and beauty. It really is near the top of complexity in my book (as far as a readily obtainable whisky goes). And the balance is astounding considering that this particular bottle has been at less then half full for well over a year. It almost lost its footing on the finish but it totally redeemed itself.
Aesthetic experience: I love this bottle. I love that it hasn't changed (much) since it came out in 1988. Easily my favorite bottle and label style of a whisky. The age is wonderfully classic as is the little Lagavulin seal over the cork. It is just a classic in my book. Even the 43% ABV seems to work here . . . which kind of shocks me. This is a bottle you buy, pour, and repeat.
Conclusion: I hear that the peat levels will drop in the near future – saddening indeed. Further, I hear that there will be fewer sherry casks – more sadness. This is just that perfect mix for me. Most nights I want something big bold and powerful – which really is not the game here. This is something for when you want velvet power and mellowed extravagance. I tasted this bottle with paper in hand on 5 occasions over 2 years. It always scored between 93-95. But mostly spot on at 94 - hence this bottle score. I just purchased a replacement for this bottle . . . we will see how it lives up to this great example.
Find where to buy Lagavulin whisky