Ledaig 10 Year Old
KWM 2020 Whisky Advent Calendar - Day 4
6 185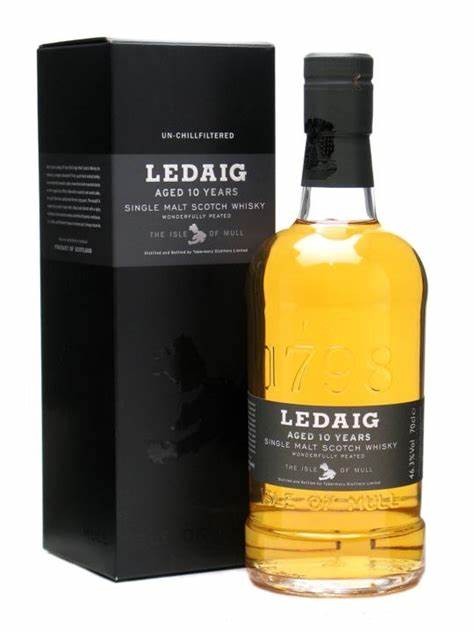 Nose

21

Taste

22

Finish

21

Balance

21

Overall

85
Distribution of ratings for this: brand user
I had thought for sure I had reviewed this one at some point, but I hadn't - the only Ledaig I ever wrote up was a Cadenhead's Duthies 13yo (and scored it an 84). This is their standard 10yo expression - I think at some point they upped the ABV from 43 to 46.3%.
The colour is a pale straw. Really peaty on the nose - more so than I remembered - and quite malty as well, with green apple, nutmeg, liquorice all-sorts and vanilla. Quite medicinal. Water adds lemon zest. I like it but for me the peat overwhelms the other notes a little. Could use a bit more complexity.
On the palate there is some honey and vanilla sitting side-by-side with the peat, as well as green banana, prosciutto and brine. Medicinal, just as it is on the nose - again, those peaty notes could use a bit more layering. Water gives it a bit more balance.
The finish is, well, peaty but also shows allspice, vanilla bean and more banana. This is one of those examples of a dram that, despite being well aware of its shortcomings (lack of complexity and being pretty much a one-trick pony), I like it. I like peat, so hey I like this one. There's nothing wrong with it - but there's not much more going on here than in a standard dram of Black Bottle or Islay Mist.
Find where to buy Ledaig whisky