Mitchell & Son Green Spot Chateau Montelena
Better Late Than Never
4 184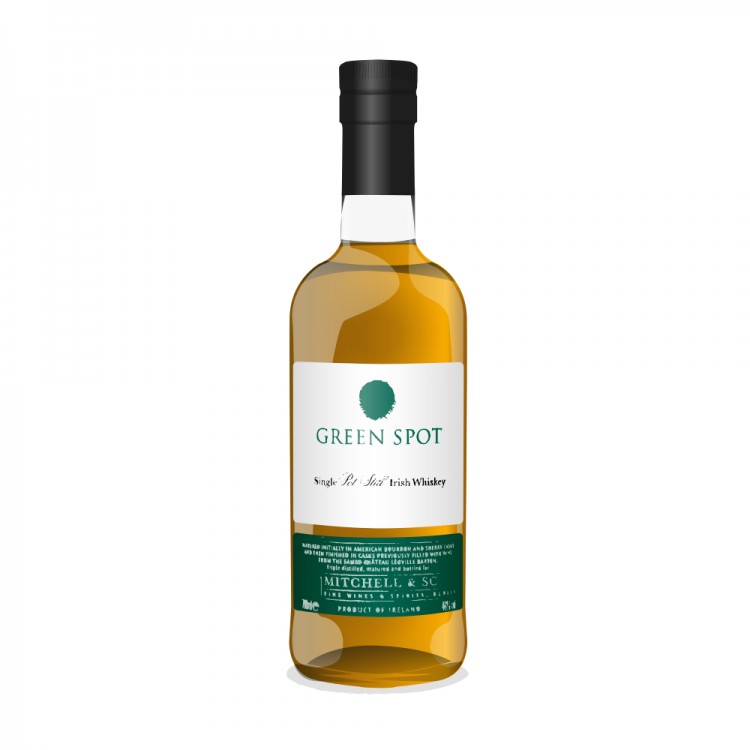 Nose

21

Taste

23

Finish

19

Balance

21

Overall

84
Distribution of ratings for this: brand user
Well, St. Patrick's Day is long past, and I didn't do my usual set of Irish whiskey reviews (sob). So I'm finally getting to one now (it will be the only one today, unfortunately). Believe me, I'm no happier about it than you are - life is getting in the way of my whiskey!
Midleton has released another variation on their wonderful Green Spot single pot still. This one is the usual Green Spot (matured for 8 to 10 years in a mix of sherry and bourbon casks), but then finished for 12 months in ex-zinfandel casks from Chateau Montelena in Calistoga, Napa Valley (which was founded by an Irishman, apparently). It's been open since March 15 when I poured it for my office (it was received quite enthusiastically).
The colour is a deep gold. On the nose we have cherry compote, raspberry jam, plum pudding and a hint of wood smoke. Vanilla bean. Red candy apple. Lots of pomegranate - as you may have guessed this is extremely fruity. Water brings out a bit more wood smoke. The original Green Spot is somewhere there in the background, but the wine cask easily dominates it.
The palate is rich and flavourful with, well, lots of zinfandel. More red berry fruits, with blood orange, toasted oak, baking spices and vanilla custard. Silky and mouth-coating. The spicy pot still character comes through a bit more here, especially if you add water. Quite delicious, perhaps a wee bit too sweet...but that mouthfeel is soooo luxurious...
The medium length finish is a bit rough with cinnamon, more oak and soft mealy red apple. This one is an interesting beast because 1) I love love LOVE Irish single pot still and 2) I usually HATE wine finishes. So I guess I have a love/hate relationship with this one - while the nose could use more oomph, and I'm not crazy about the finish, it tastes delicious. I don't think I've ever had Chateau Montelena zinfandel (and there isn't one at the LCBO) but I would totally buy one based on this flavour profile. Ok so it's less a love/hate relationship than a this-is-interesting-I'm-glad-I-tried-it relationship.
Find where to buy Mitchell & Son whisky