Tobermory 11 Year Old 2009 Double-V
Crispy
0 086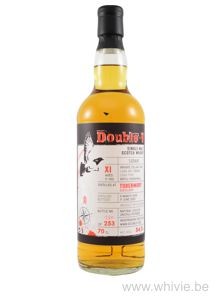 Nose

~

Taste

~

Finish

~

Balance

~

Overall

86
Distribution of ratings for this: brand user
This malt was distilled on 9th March 2009 and bottled on 11th June 2020. It's from the Tobermory distillery on Mull, but the label clearly states this is a Ledaig, the peated expression. Young Ledaig, you know what that means. 'Mark is going to like this'. And right you are. This is the second release of the new Belgian bottler Double-V. Available in shops for around 100 EUR.
Ham, ashes, candlewax, plasticine, vanilla, apples, olive oil, oyster sap… the works. I'm already happy. 'They actually do still make 'm like that, sir' and that's a good thing.
The body is light and… crispy – for lack of a better word, but wonderfully dirty on a truckload of ashes, with apples and now also some grapefruit. The whole is quite feisty on chili peppers and a pinch of salt. Nice development of smoke.
The finish lasts very long and makes me feel all warm and fuzzy.
Great dram that will help me through this winter, especially in these trying time. Sample received in gratitude from Jeroen of The Bonding Dram.
Find where to buy Tobermory whisky