Ardbeg 17 Year Old
Balance is the name of the game
0 488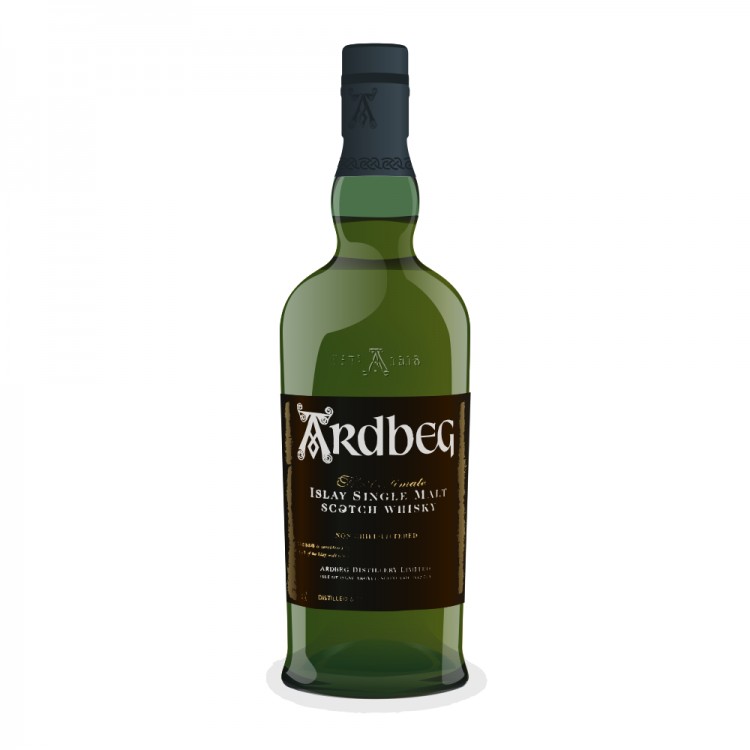 Nose

~

Taste

~

Finish

~

Balance

~

Overall

88
Distribution of ratings for this: brand user
If there is one single malt that Jim Murray had a hand in creating it was the Ardbeg 17 year old. He claims it almost every time you care to listen. In 2004 I stopped in a small liquor store in Green Hills near Nashville. They had four bottles of 50mL minitures of Ardbeg 17yo . . . and I bought them all. I have tasted them over the years. This was my third mini bottle, and on this night I tasted against the Airigh Nam Beist and the 1977 Ardbeg. Here are my thoughts on the 17yo.
Nose: Nice, clean ripe fruits linger behind a very delicate bed of peat. It is very sharp and alcoholic attack for only 43%. More of a lingering fire with only bits of peat and smoke. The fruits certainly remind me of Glenmorangie with all the citrus orange and lemon. There are hints of apple and pear also, but then comes the white pepper. There is certainly a hint of both the Speysiders (Glen-something) and the highlanders (Glenmorangie, Oban). This is certainly an "all-things-for-all-people-type-of-malt." Really, it is the lightest nose of the night. And I am saddened for all the great casks (peated and unpeated) that were used to make this . . . at a mere 43%. It works, but it could have been so much better . . . Water only adds to the "all-things" ambiguity. Now there are only hints of hints of hints . . . I can see Jim Murray's values in this whisky.
Taste: Very interesting dry and only semi-sweet arrival of peat, seaweed, and oak. There is a slight soapiness if you concentrate too hard. Still, there is tons of sharp citrus attacking the tongue. With water you get a bit of that old 70's Ardbeg diesel oil and the citrus takes a bit of a back seat. Strangely, I like this better with water.
Finish: Very salty and typical Ardbeg, but with only a whisper of peat and smoke. It is like the shadow of a typical Ardbeg 10yo finish. No wave of peat; just the salty remnants of where the ocean once was. The wave aside, it is still a medium to medium short finish - and boy does it stay with you . . . all warming like with the salt attacking your mouth. With water more of that pine note I am picking up on in the other two Ardbegs tonight – and it is more warming.
Complexity, Balance: I will say that the nose is well balanced to the extreme. It is like they vatted Ardbeg with about 5 other single malts in a very perfect way. You get the apple from Glenfiddich, the grass and lemon from Glenlivet, the orange zest from Glenmorangie, and the spice and wood from Oban along with the peat from Ardbeg. So balance is off the chart. Complexity . . . it is up there. Not as complex as the other Ardbegs tonight, but certainly up there in the single malt category.
Aesthetic experience: I don't love the 43%, but I do like the bottle, label, color (lightest of the night), and age. My thought is that Ardbeg should do a 10yo, 16yo, and 21yo in the coming years . . . but I doubt they will. Seventeen just seems on the verge . . . at sixteen you are in Lagavulin land. At eighteen you are up with almost every other distillery. 17yo . . . it just seems off on its own planet . . . much like this dram.
Conclusion: A few months later after I picked up these miniatures (and tired one) I saw a shelf of Ardbeg 17yo (keep in mind this is 2004). I knew that Ardbeg 17yo was on the outs and that Uigeadail was the new thing. I remember thinking, "I should buy a case of these and leave them in my parents basement." And hindsight has proved my point. A bottle of this sells for 4x's what I would have paid that day. BUT . . . I would only have bought it for the resale – which I don't believe in. This was fun to taste, but I don't love it. I hear this has some unpeated Ardbeg in it. I hope that if Ardbeg every offers a 17 year old again that it will be fully peated Ardbeg at 46% (or more). This style is just too "Jim Murray-ish-balanced" for me. If you like that style you will love it!
Find where to buy Ardbeg whisky