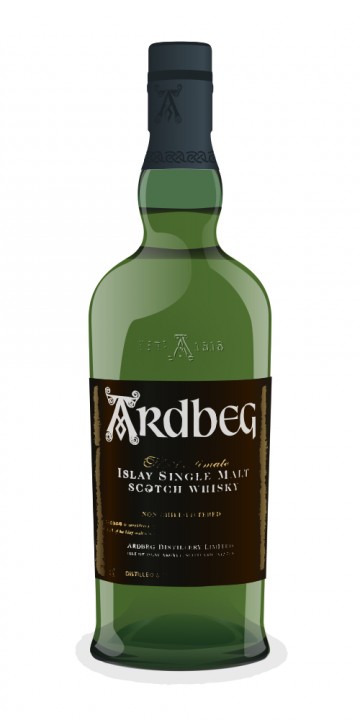 When it comes to Ardbeg I expect a strong and robust offering. However when it came to tasting the much famed Ardbeg 17, the experience was, well, not exactly matching my expectations.
Nose: Delicate is not a word I have used to describe Ardbegs in the past but this is exactly the first thing that comes to your mind when your nose is greeted with all the fruity notes. I'd say a bit of tangerines, apricots and lime. The longer you left the more it seemed like dehydrated fruit pieces of pineapple. Now there are traces of the peat in there but they are all hidden well below the top notes.. and one had to really dig them out. There's also some eucalyptus oil that you can find. Did get some damp mud notes in there as well.
Palate: The first sip has an usually sweet start that quickly disappears and gets replaced with a lot of sooty notes. The sweet is more on the sugar syrupy side. You do find some mild peppery spiciness initially which does get a lot more pronounced by the second sip. For me the palate was this expression's weakest part with not much to offer.
Finish: This one has a fairly nice finish with liquorice, pepper, some mild fruit notes and finally a lot of spearmint. By the time you have the second sip the spearmint flavors tend to linger much long giving it a nice ending.
All in all this is one Ardbeg that you're bound to have the house divided on in terms of their opinions. You'd either really like it for its uniqueness or you won't due to your liking for a certain delivery that you've come to expect from this distillery.
These are detailed and honest tasting notes, @TrailingTheMalt, and I enjoyed reading them. In my experience it is usually the palate where things can go wrong, and hardly ever the nose. I have never had the opportunity to taste the 17yo but now have a much better idea of what we are talking about.
Thank you @pierre_w .. what you say about the palate is true.. and in this case tht was exactly what was a bit of a let down .. but having said that.. I'd still say if you do get a chance do taste this one.. two reasons as per me.. one its from an era from which there won't be too much whisky available to savor in the near future and secondly even though its a variation from the usual Ardbeg.. one might just end up liking it too.. :)