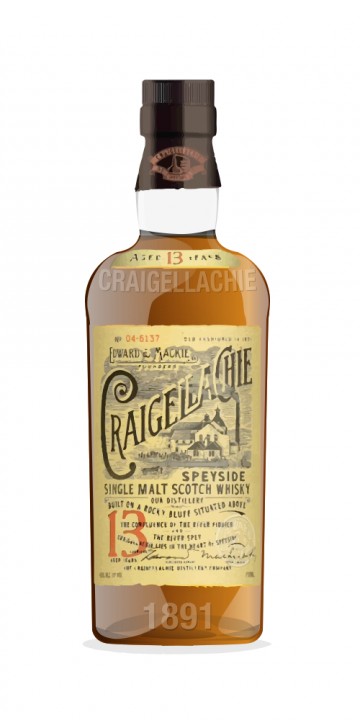 Today we go to Day 2 of the Kensington Wine Market 2020 Whisky Advent Calendar, and it's one I have had before but haven't reviewed here: Craigellachie 13 Year Old.
The colour is a dark gold. Rich on the nose with burnt sugar, caramel apple, tons of cloves and grilled tropical fruit (think mango and pineapple). Blood orange. Dark honey. Seems like a lot of oak for thirteen years. Maltier with water. There's a sulphurous off-note I'm not crazy about, but it carries a lot of heft.
On the palate it's equally hefty with an oily mouthfeel, pretty serious oak, dark caramel, cinnamon and cloves, burnt orange peel and brown sugar. Walnuts. Baked apples and grilled pears. Overripe peaches. Medjool dates. Less sulphur than the nose, but it is hinted at here nevertheless. Water lifts the spice. Meaty and rich but retains elegance thanks to a malty background.
The finish is cigar ash, spices, charcuterie and tons of oak. It has a rough, dirty feel that reminds me a bit of the Millstone single malts I had yesterday, but here there is both a fruity elegance as well as some off-notes I'm not fond of. I remember liking the 17 Year Old more (which I had scored an 89) but still this is a nice old-fashioned style of scotch.
@talexander thank you for your review. I see this one about the same way that you do.
I heard celebrity brand rep Georgie Bell present this one plus 7 other Craigellachies going up in age to 32 years old, if I remember correctly. You are not imagining the sulphur. The Craigellachie brand reps actually brag about using inadequate amounts of copper in their stills to remove the sulphur.
The sulphur notes seemed to dissipate greatly in the Craigellachies I tasted above 20 years old. Those were pretty wonderful, though I would guess not inexpensive to purchase.
I also rated the Craigellachie 17 89/100 points, but the spent match sulphur was still faintly present. I'd love to try the 23 year (or older) expression but they tend to be quite cost prohibitive. Great review, as always. Those tropical fruits are really interesting.