Deanston 9 Year Old 2009 Old Train Line
Bite
0 083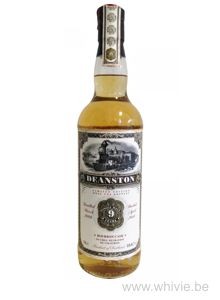 Nose

~

Taste

~

Finish

~

Balance

~

Overall

83
Distribution of ratings for this: brand user
Old Train Line is a series of independent bottlings by Jack Wiebers, a German bottler. In a previous life, Jack Wieber was an agent for Michael Jackson, the pop star. I find the labels of this series really worthwhile. But, of course, it is about the content, in this case a young Deanston that matured on a bourbon barrel for 9 years.
The nose starts closed and needs some hand warmth. Honey and some white fruit are surrounded by a soft touch of beeswax, slightly metallic notes and green grapes, but at the same time it also offers a light off-note in the form of vase water. It can not hide its young age.
It is rather sharp and very peppery on the tongue. In that sense, it is a fine continuation of the nose, but the alcohol is not 100% integrated. This stuff really bites. The beeswax returns, the honey as well and the white fruit is now clearly of the candied kind with a lot of sugar over it. Some hay appears in the background. It becomes very sweet and spicy from the second sip, after your saliva glands have gone into overdrive.
The finish is long, but offers nothing new. He dies a slightly bitter death.
This Deanston is okay-ish. Fortunately, the off-note on the nose did not return on the palate or in the aftertaste. Given the young age of this malt, that's not too bad. Thank you, Manny.
Find where to buy Deanston whisky