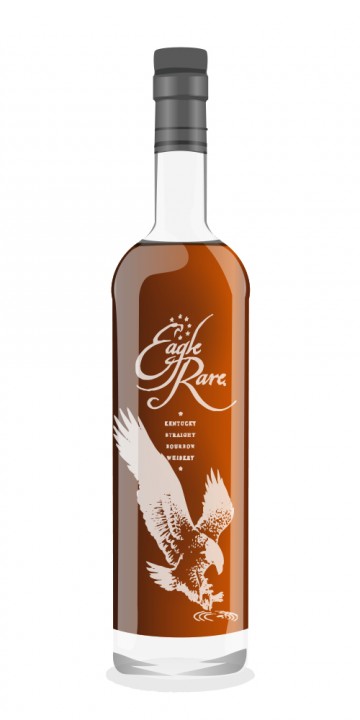 Eagle Rare 10 year is now a single barrel offering; I think that's a recent thing but I could be wrong. It's also a bourbon that causes mass panic and FOMO-inspired rage among Ontario bourbon customers. The online whiski world is awash with accusations of LCBO conspiracies, people with secret insider information plotting to deprive others of this nectar of the gods, etc. It's all a bit much, frankly. Some people need to take a step back. Of course, I'm not immune to this herd behaviour. When I happened to notice this was available for purchase online, I bought two bottles even though I'd never tried Eagle Rare. Well, let's see what the hype is about.
Tasting notes
From a compilation of notes tasting the whiskey neat using a Libbey Bourbon glass, a Glencairn, and a mini Laphroaig-branded Glencairn. I'm not sure if the branding affects the taste but I always aim for full disclosure.
Nose: dark fruit, oak, caramel, floral notes, some baking spices (cinnamon and clove), honey
Palate: rich arrival and full bodied despite the low-ish abv, dark oak notes, maple syrup, dark cherries, a touch of leather, vanilla, honey, some baking spices
Finish: long with oak lingering, more maple syrup and baking spices, dark fruits again, and a bit of strong black tea (I often get this on the very end of BT products like Stagg Jr and standard BT).
Thoughts: I like it. I like it a lot. I'm glad I bought two bottles. I hate to agree with the popular consensus, but $56 for a 10 year single barrel bourbon is a great value and Eagle Rare lives up to the hype. Well, at least this first bottle did. Who knows if my other bottle came from the same barrel? I should note, however, that screeching at LCBO employees is never justified, no matter how good a product is.
@OdysseusUnbound - nice review of one of my favourite bourbons! It is also less available here in the UK but the price is still decent for a 10 year single barrel bourbon.
As for the single barrel thing, I believe that has always been the case but, like you, only found this out recently so not 100% sure.
@RianC I had no idea about the SiB thing. Of course, you could fill many books with things about which I have no idea. Eagle Rare is, well, rarely available here in Ontario and when it is it sells out quickly. And people go RAGING MAD when they can't get a dozen bottles. I ordered mine through the LCBO's "deliver to a store near you" option and when I picked my two bottles up, the employee told me that people were calling the store asking for the two bottles since a glitch in the system shows "2 bottles in stock" even when those bottles are bought and paid for already. And according to the employee, people did not react well to this news. The world has truly gone mad. It's only whiski, people. It's a luxury item, not a life or death need. Sheesh.