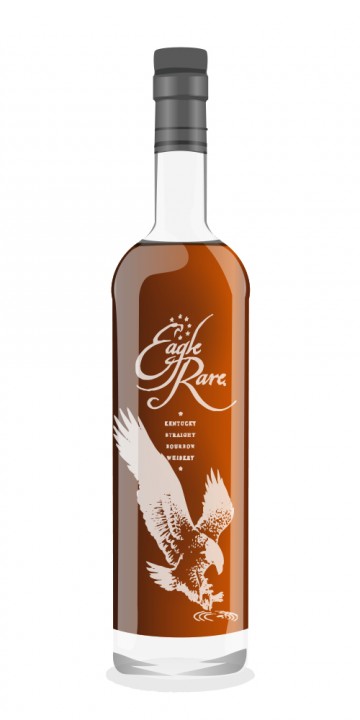 Today I've got a bottle of Eagle Rare 10, a single barrel release from Buffalo Trace. This is a bottle that has only recently become available in Taiwan. It seems that this island is (very slowly) catching up with Japan. Aside from being an established scotch importer, I'm happy to see some quality single malts being produced here, as well as an increased interest in bourbon and world spirits. Lately a flood of previously unavailable American whiskeys have hit the shelves here, which makes me a happy man. Of course I'd love to see more Canadian products and a wider selection of rum, but beggars can't be choosers. In the meantime I have this ER10, which has been open for over a month at the time of this review.
Nose: A very unique character from the get-go. Is this cognac? Very grapey. Beyond that we have wood chips, light caramel, touches of grain, honey, tree bark, cherries, and berry jam. A particularly fruity character here.
Palate: Medium bodied. Well, light-bodied by bourbon standards. Cherries, berry jam, brandy notes, bubblegum, apples, and caramel.
Finish: Medium finish. Oak, grapes, pepper, caramel, floral notes, brandy, grain, and bubblegum. Very nice flavours, but the finish seems somewhat unpolished and astringent until water is added.
This won't suit some people, but it checks a lot of boxes for me. Neither cloying nor too thick, with a character that stands out. This would score higher still if the finish was more refined. But I love the grape notes (water brings them out), I love the bubblegum flavour, and I love the soft, grainy mouthfeel. This is a dynamic bourbon, and it's hard to pin down its character. It doesn't have a traditional mouthfeel or flavour profile, so depending on your tastes you might either love it or hate it. I'm a fan.
Notice, also, how your bottle of Eagle Rare 10 Single Barrel changes over time. It can be quite a lot.
Now you need a taste of Eagle Rare 17 yo. It is getting ridiculously hard to get a bottle of that even in the US now.
I have long noted that Eagle Rare 10 yo SB is usually very well-received as a first bourbon for malt lovers. You, of course, are now an old US whiskey hand...not many people have bottles of Willett Family Estate ryes and bourbons.
Yes this is on the delicate side for bourbon, which I think single malt lovers can appreciate. It's very dynamic too, this one was difficult to pick apart because it evolves a great deal both in the bottle and the glass. I'd love to try the 17.
No, I'm not a bourbon guy. I do what I can to get my hands on ryes or some finer bourbons, but I have little to no authority on the subject. I believe you are the resident bourbon/rye expert, sir.