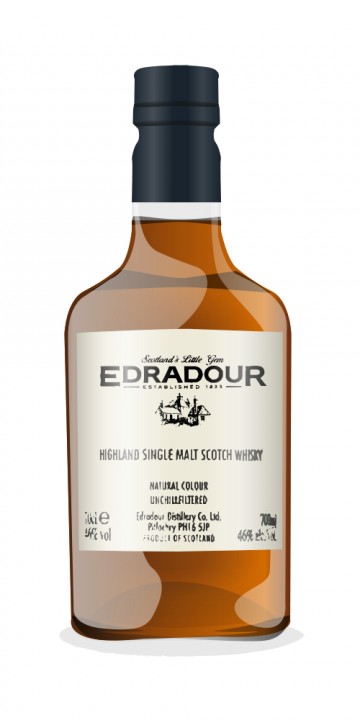 Edradour markets a whole range of wine finishes, bottled in the series Straight from the Cask, meaning the whisky is single cask at cask strength. This one was finished in Sassicaia wine casks, filled in bottles of 50cl and packed in nice-looking little wooden crates.
Sassicaia is considered to be a top wine from Italy in 'Bordeaux'-style, produced in Toscany.
The nose is sweet, but thank goodness without the off-putting organic scents that most of its cousins suffers from. The wine comes out nicely, without becoming winey. I get flowers and spices. And a welcome touch of smoke. There is also something trying to come to the surface that reminds me of a dark beer. Quite enticing, actually.
On the palate, the sweetness returns with full, rich wine notes, but never becoming vineous, accompanied by some wood. Rather dry.
The finish is fairly long and pleasant, but doesn't reveal any more complexity.
After tasting a few of these finishes, I cannot shake the impression that this is all an experiment. I even dare ask out loud if this was not just an attempt by the new owners to market mediocre spirit in disguise. Anyway, not one Edradour from the Straight from the Cask series succeeded in making me a believer in Scotland's reputed smallest distillery. Although, to end on a positive note, this Sassicaia finished whisky was the best I tasted from the series.
@markjedi1 this has been an interesting mini-series of reviews for the week, better than any soap opera I can tell you ;)
@markjedi1: indeed, seems like it was a slightly bemusing series of tastings! will still be interested to try this particular expression though.