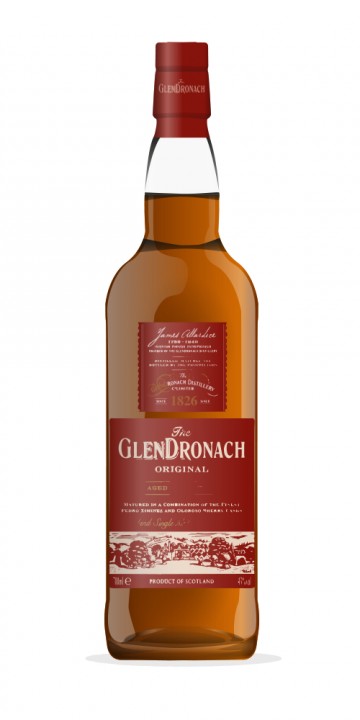 My earlier tasting of the Octarine took place in poor conditions (hot, outdoors, single dram) and my experience with malts was much more limited— for example, I had not tasted, or heard of, Glendronach before that. I decided it was time to revisit this one after hunggar's recent review, so I return to this malt now armed with a full bottle (well, not anymore…).
Nose: The overall impression is of grape skin, salty shortbread, and apricot / raw pumpkin. It is complex and full, and it opens up nicely after some time. The first breath gives grape-skins (tannic/floral/grassy/leathery) and vanilla'd-marzipan. (I'd earlier written raw coconut milk and apricot, and I still think these apply). A second slow breath (or built-up vapors, or a warmed dram) is more vegetal: salted butter, melted on a raw pumpkin slice with coriander seed.
Palate: Syrupy caramel/vegetal/grape entrance, with a good dose of oak building. The lasting impression is a sweet and savory development: raisiny, to apricot + savory spices, to a white pepper peak, and then more sweet vegetal: grapes and apricot/ pumpkin-flesh again.
Finish: Grape skins and vague caramel are forward; less white pepper, but that pumpkiny sensation remains and fades in the back.
I know that I can be turned off when I read "vegetal" in other reviews, but we're not talking broccoli here, but rather a pleasant pumpkin flesh, similar to apricot. Similar but different from that of the Jura 10; it works really well here and is smoothed over by sweet-and-salty accents. I could also think of persimmons with olive oil, or stewed salty watermelon. I get more tempered oakiness rather than "huge spices", except for that peaking of white pepper. The nose is lovely, especially after opening up. Compared with my earlier tasting, I would say I can still understand my earlier perspective, but the leather/citrus/salt are now much less apparent; perhaps these had been brought out by the heat. Instead, I find this fruitier and even smoother than I remembered.
Overall, the Octarine is rather good and interesting: smooth and full of character. It is worth trying as a somewhat exotic any-day dram (certainly at its previous price before being discontinued). I would say I can't fall in love with it because it is not my favorite flavor set, but I have to admit that it is exceptionally smooth for an 8yo, and the bottle keeps calling to me. The fresh bottle was closed, but each time I return, it seems more well-rounded and enjoyable. In the end, I was not disappointed that I'd picked up a bottle, so this gets a pretty high mark for me, above average. I think its character will be especially well suited to early autumn.
Compared with the 12yo, this is less cereal/hay and more grape/pumpkin. I prefer the Octarine, because it seems (strangely) less young and hay/grassy, and the vegetal tones seem more palatable.
The closest non-Glendronach malt, for me, is Glenfarclas' 10yo: the same salted butter and grape tones, along with a savory background and interesting spices. The Oban 14 is really different, but I could imagine attracting the same people. For a less vegetal and more apple-y experience, I would direct you to the Arran 10yo. I could also recommend Old Pulteneys (12/17/21) as a good connection to other interesting, spicy, and briny malts; however, those again exhibit a very different set of fruit flavors. There is furthermore a range of "double cask" or "triple cask" expressions I could connect to, mentioned in my last review of the Auchentoshan Three Wood.
A couple further similar/comparison malts, which I've re-tasted on the same night: Jura 16 Diurach's Own, which has some vegetal elements but less grape and certainly less spice. And Arran's recent 17yo, which is not vegetal but has just a touch of the apricot and a LOT of the spice. A vatting of these two might just come close....