Glenfarclas 40 Year Old
Old sherry with a touch of grass
0 387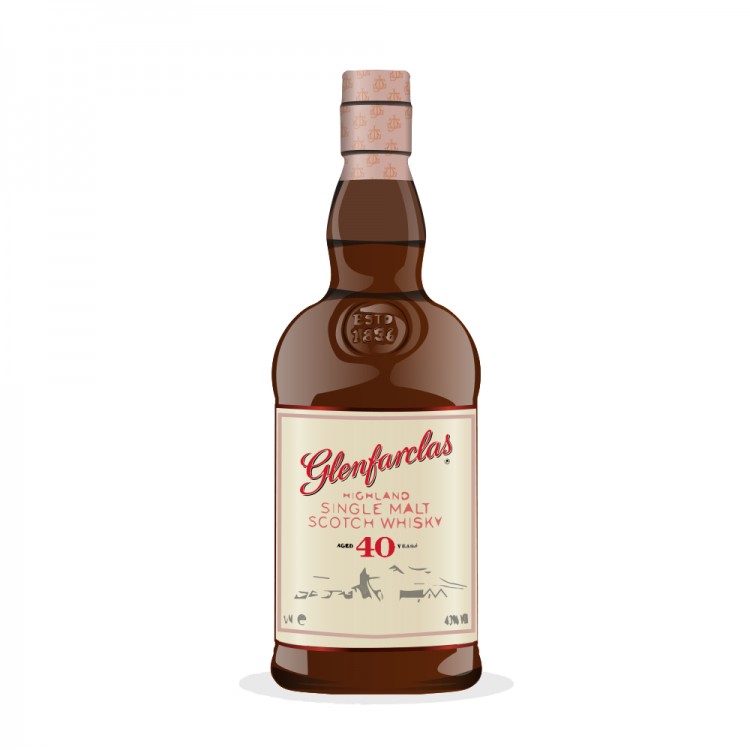 Nose

~

Taste

~

Finish

~

Balance

~

Overall

87
Distribution of ratings for this: brand user
Glenfarclas distillery (the name means "valley of the green grass") was first granted a license in 1836 after production had arguably been going on at the same site since 1791. In 1865 it was acquired by John Grant and since then has remained in the hands of the same family. At the moment it is run by both the 5th generation (Chairman John L.S. Grant) and the 6th generation (Director of Sales George S. Grant). Glenfarclas uses an unusually large share of sherry butts, mainly Oloroso, in their maturation process. The 40-year old expression was first released in 2010 and has been a part of the distillery's core range ever since.
The nose is rich, distinctly rubbery (in a good way) and displays a whiff of smoke. It is less fruity than I had expected, with prunes and raisins taking center stage, followed by notes of tobacco, bitter chocolate and cinnamon. Right at the end espresso flavours pop up.
The palate is medium-bodied, a bit peppery and dry. The prunes and raisins are back, together with tannic and winey flavours. There is also a grassy, herbal side to the palate – rather unexpected, I must say.
The finish is long and dry with tannic notes and a whiff of balsamic vinegar.
This is a big and assertive whisky, no doubt about that. The nose is simply fabulous, rich in different flavours and super well balanced. Both palate and finish have a less distinct profile, and it was a pleasant surprise to see that this was not as oaky as one might have expected a 40-year old single malt to be. Still, I was slightly confused by the palate's herbal character and was not too much impressed by the balsamic vinegar right at the end. So, in other words, this worked for me but I was not blown away (try a family cask of similar age instead!). What is mind-boggling, though, is the retail price, given that this goes for only 450 Swiss francs in Zurich (approx. 370 Euros), as similarly aged single malts from other distilleries tend to go for much, much more.
Find where to buy Glenfarclas whisky