Glenlivet 16 Year Old Nadurra
0613X<0814D
9 1284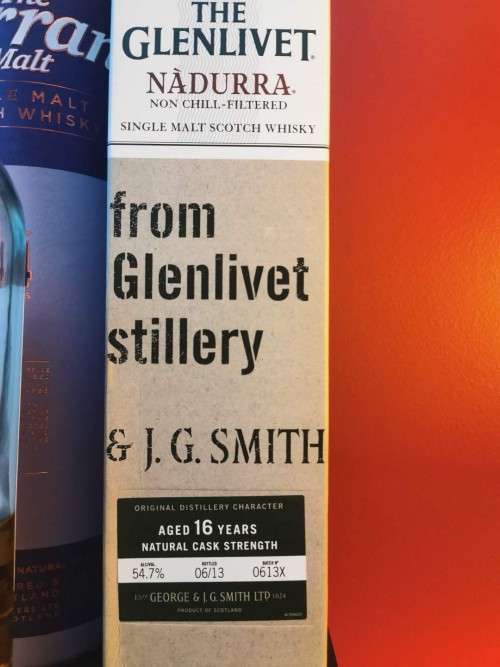 Nose

22

Taste

22

Finish

19

Balance

21

Overall

84
Distribution of ratings for this: brand user
This is my second bottle of the 16yo Nadurra from THE Glenlivet. My first bottle that was very good was batch 0814D. I found this 0613X last September and grabbed it while I could, as finding these in the wild is not an easy thing to do these days.
Bottle has been opened for 6 months and is just under half full. Neat in a Glencairn. I will jot this down, then compare my review with 0814D as a sort-of head to head.
Nose: Lemon juice, pineapple, orange peel, honey, and a bit of vanilla strudel/pastry. I'm always surprised at how "light" the 16yo Nadurra is despite being full of flavor and cask strength. A welcome trait for spring weather in my book.
Palate: The underlying malt really shines through with this, and that's something I greatly appreciate in a whisky and something that is harder to find. This isn't drowned in peat or sherry. The palate is very refreshing, with vanilla, honey, a bit of milk chocolate and "smarties" candy. And again, it is a light mouthfeel despite the strength.
Finish: I find the finish in this batch to be a tad disappointing. All the nice things about the nose and palate fade fairly quick, and the finish is, as much as I hate to say, flat and slightly tannic/bitter.
Overall: I love that there isn't anything this malt could hide behind like peat or sherry. Despite the age in the cask, the underlying spirit really comes out and I wish there was more of that in newer whisky releases.
While still a good whisky, batch 0814D was better. The nose and palate of this batch are very similar, but I just remember 0814D meshing perfectly and everything being turned up in intensity compared to this batch. Not to mention the finish on this one is just not as good. I will say this, time has not done this bottle any favors. This was better when freshly opened. The 0814D didn't seem to have an oxidation decline despite being opened for a couple years. If I were to have fresh bottles of both batches side by side, I think they would be very competitive, maybe a point difference with 0814D coming out slightly on top. But as it sits after a few months, 0613X, while still good, falls well short of 0814D.
Find where to buy Glenlivet whisky