Gooderham & Worts 49 Wellington 19 Year Old
Overlooked? Not anymore.
3 292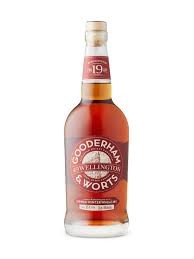 Nose

24

Taste

22

Finish

23

Balance

23

Overall

92
Distribution of ratings for this: user
Brand:

Gooderham & Worts

ABV:

49%
I've always felt that the Gooderham & Worts line was like the overlooked middle child of Corby's Northern Border Collection. Lot 40 is bold and assertive, like a typical first-born. Pike Creek gets pampered (like a youngest child) with rum barrel finishes, or Oloroso Sherry finishes and so on. Gooderham & Worts is a bit more subtle, a bit more complex...or complicated. Yeah, let's say complicated. The whiskies used in these blends are chosen for how well they highlight each grain's character.
Gooderham & Worts 49 Wellington features whiskies made from corn, rye, red winter wheat, and barley. I say "whiskies" since these grains are all mashed, fermented, distilled and aged separately, as is standard practice with most Canadian whiskies. Some of the whisky was also aged using seasoned red oak staves in some of the barrels. The whisky is 19 Years old and is bottled at 49% abv. Huzzah !
Tasting Notes
Nose (undiluted): old and slightly weathered barn boards, fresh cut oak, hot peppers, a touch of rye spice, some butterscotch, a little bit of balsamic vinegar, a touch of mint, perhaps some red grapes, freshly varnished wood (in a very pleasant way), this is a very complex and expressive nose
Palate: arrival is easier than one might expect given the 49% abv, rich with maple, caramel, vanilla fudge, fresh rye bread, a sprinkling of black pepper and paprika.
Finish: long and warming with vanilla, rye bread, orange zest, hot peppers, sweet and sour sauce, more oak, a bit of caraway seeds
Final Thoughts: a single sample of this whisky probably doesn't do it justice. I'm glad I purchased a bottle as repeated tastings have revealed more aromas and flavours. It also benefits from a good rest in the glass, say 20 minutes or so. The nose, in particular, is absolutely fantastic. There's so much depth and nuance to discover; if you have a chance to sample this, please don't rush it. This is harmony in a glass. It isn't Metallica's "Master of Puppets", no, this is more like a Rachmaninoff Piano Concerto. Oh, and by the way, Sergei Rachmaninoff was a middle child.
Would I accept a glass if it were offered? Absolutely
Would I order this in a bar or pub? For sure
Would I purchase another bottle? Without hesitation. This is superb whisky. It's well-crafted and beautifully blended. Outstanding.