Highland Park 21 Year Old
Sex In A Bottle? Possibly!
0 293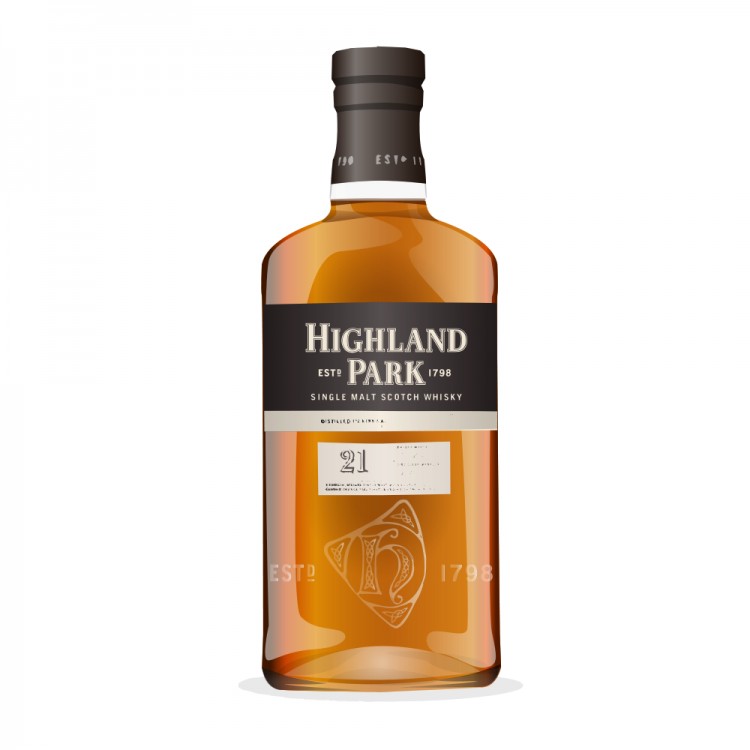 Nose

24

Taste

24

Finish

23

Balance

22

Overall

93
Distribution of ratings for this: brand user
Tonight I cracked open yet another sample that I received from a friend in Queensland (Thanks Systemdown!). In less then a week my wife and I fly out to Scotland to meet with my brother and experience the whisky adventure of a lifetime.
In lieu of this I'm actively trying to get caught up on as many of my samples as I possibly can (it's totally not going to happen since I have more then 30 samples to work my way through) but I'm making the effort.
I'm specifically making the effort as I tend to buy only whiskies I've never tried before as I'm always looking to expand my whisky experience. However I'm always looking into whisky distilleries as possible candidates of grabbing something out of their range that I've never tried before.
I love the Glenfarclas 10 year old and 12 year old and I really enjoy the 30 year old, heck I just might buy the 40 year old when I'm over there (I think I really will to be honest) but you get the idea. Why buy something that I've already tried when there are so very many whiskies out there that I've not met?
Tonight I decided to crack open the sample of the Highland Park 21 year old that I'd recently received. I've enjoyed the 12 year old, haven't owned a bottle yet, had mixed encounters with the 18 year old ranging from "What is everyone going on about" all the way to "that's lovely!" so I figured I'd give the 21 a shot.
It doesn't hurt that my sources have informed me that Highland Park is running out of older stocks and within a couple years time the 21 and older expressions will become more and more rare and more and more expensive until the whiskies now aging become old enough. I figure if I might like an older Highland Park, NOW is the time to find out when I can stick pick up a bottle for a reasonable price as opposed to blowing up my bank account in a few years time or punching myself in the arm because I've discovered the beauty of an older HP is.
So when I came home out came the glencairn, out came the pizza and salad along with a good movie and my wife and now it's time to explore!
First off this is a big complex nose. Screw that this is a big complex whisky, it needs time to open up and breathe, but once you let it, whoa baby look out!
Initially when I poured the sample into the glencairn it was mainly heather, smoke, cinnamon and leather, but given 30 minutes or so the transformation was beautiful.
Vanilla popped out of the glass along with orange peels, cereal, toffee, honey and quite a bit of dark fruit, specifically sultanas. The smoke, cinnamon, heather and leather are all still there, but now it's like the aromas are swirling in amongst one another.
Same thing goes with palate as the nose. It needs time to breathe and this is a whisky that you're going to sip and savor over the course of the evening, it's not going to be a whisky where you'll knock it back and then ask for the next whisky in the round (if you do this I do believe they'll never find your body once I'm done with you)
First sip was initially quite charcoaly with peat and smoke, but once more given time to open up this whisky eventually shows it's true character in a way that can only make you smile.
Heather, slightly herbal at times, cinnamon, cloves, peat, leather, again the red fruits, this time I'm getting cherries, and faintly some mild chocolate. This whisky starts off smokey and then becomes beautifully sweet and balanced.
A very long, lingering finish, honey and orange peels ends the whisky and it keeps going and going and going.
This whisky is like a lover. If you're hurried and rushed you're not going to have a very good time. If you push, poke and prod and try to hurry things along you're just going to wind up getting shot down and going home unhappy that night.
However if you're kind, gentle and patient you're VERY well rewarded for your efforts, leaving you to go to bed with a giant grin on your face.
However all this beauty does come at a price. I've never seen it for sell here in Perth and from the prices I'm seeing online if I did see it I'd expect to pay between $200 and $250 for a bottle.
Is it worth it? That's up to you to decide however I can tell you that after this experience I might come home with a bottle of the 21 year old and I'm going out hunting for the 30 year old while I'm over there in the land of whisky and honey.
Find where to buy Highland Park whisky