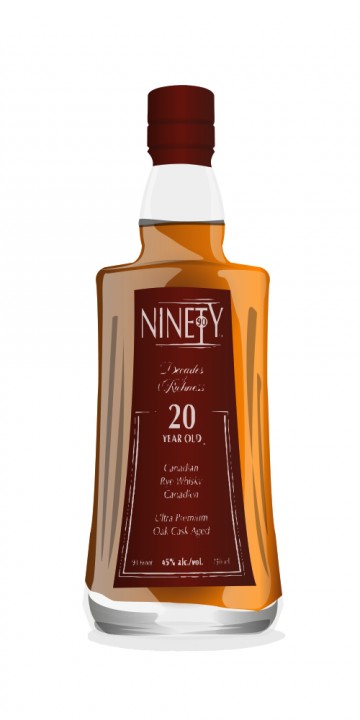 Highwood is not known for its over the top marketing. You might call them the "anti-Macallan". The Macallan has recently unveiled a new visitor centre and distillery worth upward of £140 million (approximately $243 million CAD) that looks like it belongs in Hobbiton whereas Highwood's website features all of its whiskies on one page, and it gives you exactly two sentences about their 20 Year Old Decades of Richness whisky. Despite being labeled as a Canadian Rye Whisky, this whisky is distilled from 100% Corn. So why call it a "rye whisky"? Well, it's complicated. Canadian Rye Whisky refers to a style of whisky as much as it refers to the rye grain itself. Many of the notes typically associated with rye grain, specifically the spicy notes like cloves, can also be imparted into a whisky by barrel compounds. There is a long tradition in Canada of using the words "rye" and "whisky" interchangeably. Canadian distillers are loath to change their nomenclature just because that's how someone else does it. So how does this twenty year old, 100% Corn whisky taste?
Tasting notes
Nose (undiluted): caramel popcorn, peppermint, oak spices (cloves and cinnamon) and a slight aroma of plums

Palate (undiluted): very rich arrival, full-bodied, brown sugar, oak spice, a bit of salted caramel, buttered corn, a bit reminiscent of a good amber rum near the end.

Finish: a bit drying, but still medium-long, maple butter, more oak tannins and a slightly herbal note at the very end.
With water, there is a big brown sugar note on the nose that quickly turns to barrel spices and tropical fruit. I'm thinking grilled pineapple. With water, the arrival on the palate is a tad spirity and bitter, but quickly becomes floral and pear notes appear. The finish is spicy, a bit tannic and pulling. I prefer this one without water, as the rich texture is thinned out a bit too much with water and the spirity arrival throws off the whisky's balance.
It may be anathema to some, but I tried a whisky sour made with Ninety Decades of Richness and I have to say it was magnificent. The rich, sweet and slightly spicy whisky perfectly complemented the lemon juice and simple syrup. Don't even ask about egg white. Just don't. There isn't quite enough spice for this to make an Old Fashioned to my liking, but I heartily endorse this one neat or in a whisky sour (no egg white).
I forget, is this the burgundy label or white label?
Nice review. Can you send me your recipe for a whisky sour? And where does the egg white fit in? And why do you hate it so? And what does that have to do with Doug Ford?
oops, I think that last one was for another thread...
@Nozinan It's the white label. I pretty much stick to the IBA recipe for a whisky sour:
45 ml whisk(e)y
15 ml simple syrup
30 ml Fresh lemon juice (freshly squeezed really makes a difference)
Combine all the ingredients in a cocktail shaker filled with ice, shake violently, strain into a rocks tumbler filled with ice and garnish with an orange slice and a maraschino cherry. Some prefer to serve it in a cocktail glass without ice, but I like my tumblers. Some also add an egg white to the mix which froths up on top of the drink, but I find egg whites revolting, so I omit this step.