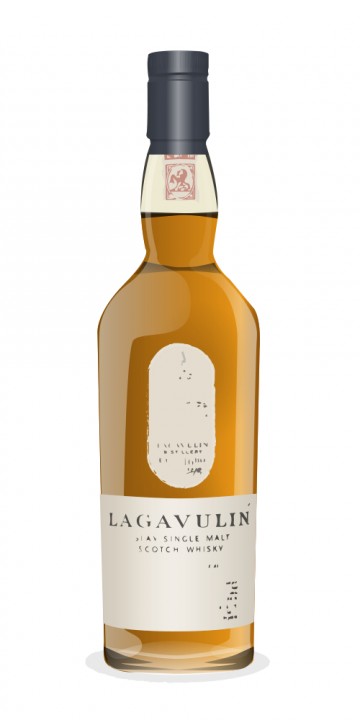 Lagavulin distillery was founded by John Johnston on the South shore of Islay in 1816, one year after Ardbeg distillery had been established. In 1825 Johnston acquired the nearby Ardmore distillery, and in 1837 the two distilleries were merged under the name Lagavulin by Donald Johnston. In 1852 the distillery was taken over by John Crawford Graham and passed on to James Logan Mackie & Co. in 1867. In 1878, Mackie employed his nephew Peter Mackie who took over the management and ownership of Lagavulin in 1889 and who is famous for launching the White Horse blend – of which Lagavulin single malt whisky is an important component – just one year later. The distillery went through a difficult time in the 1980s and for most of the decade only operated two days a week. Production was increased again in 1991, and today Lagavulin is among the iconic single malts in the industry. This version of the Distillers Edition was distilled in 1997, matured in ex-bourbon barrels and finished for a few months in Pedro Ximénez sherry casks before getting bottled in 2013. The bottle code is L3239CM000/04975246.
The nose starts with richly peaty and iodine flavours, followed by brine and meaty notes such as in smoked ham. Later on notes of mint develop quite distinctly, together with prunes, honey, some grassy notes, and a touch of cinnamon.
The palate is medium-bodied and spicy. There is distinct smoke that goes together with fruity flavours – melon and pineapple – followed by chocolate and honey. Later on notes of liquorice and figs appear.
The finish is long, smoky and warming. Ashy flavours mingle with chocolate and coffee, followed by minty notes.
I have to admit that although I adore peated whiskies I am not a die-hard Lagavulin lover. My favourite expression is the 12-year old special release (any year) but I have always struggled with the classic Lagavulin 16 combination of peat/smoked fish/liquorice. Which is why this sweet and fruity version is something that I was looking forward to tasting, and all told it did not disappoint. The impact coming from the PX casks gives it a more rounded and full (if not to say lush) taste, and the ashy flavours work brilliantly well with the chocolate and honey notes. Heaven for a Laga lover, just plain good for me.
I found the PX-sherry influence very distracting, and not well integrated into the base flavours of the Laga'.... but then I've never been a fan of finishing peaty Islays in Sherry casks, so I guess I'm not a good reference!
Thanks, @Jules. I quite like the combination of ex-sherry cask matured whiskies and peat smoke, and in the case of the Lagavulin DE I would say they did a decent job. All a matter of taste, of course.