Nikka from the Barrel
From the Barrel Came Forth The Sweet
6 284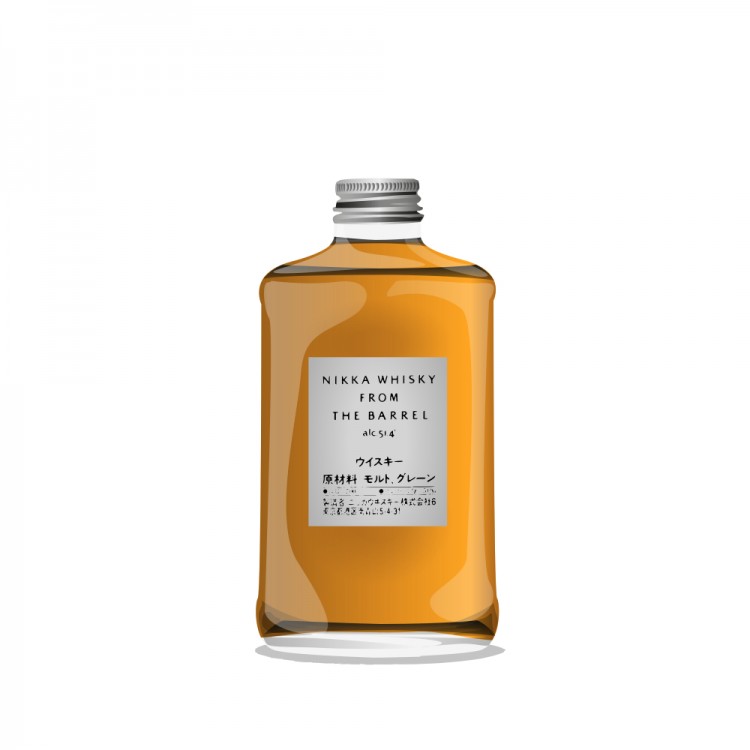 Nose

21

Taste

22

Finish

22

Balance

19

Overall

84
Distribution of ratings for this: brand user
One of the few Japanese Whiskys once can still obtain easily and that seems to be hitting US shores as of recently, Nikka must have caved in and had it bottled in 750ml rather than the customary 500ml bottles.
This is said to be a blend of malt & grain whisky, I won't even entertain the speculation that it's only from Japanese made spirits as the similarly packaged pure malt range contains Scottish whisky.
The whisky gets it's name from the fact the blend is put into refill casks to mellow out and marry before being bottled rather than a large stainless steel vat or tun. A practice I've heard other distillers mention Bruichladdich comes to mind. It is bottled in a distinct square blocky vessel, almost like medicine or a lab bottle, there are large 3L versions that come with a wooden stand and a glass pipette to dole out a measure of the whisky as well.
This is from a bottle circa 2017 from a sample graciously provided by @Robert99.
Nose: Caramel, Sweet oak, coconut. There's a sharp, slightly acetone like note but it's not unpleasant and doesn't mar the proceedings. Dried apricots, a prominent corn note like in bourbon. With time it develops on apple blossoms,creamed honey and apple skins.
**Palate:* Very full, old oak, a kind of rubber note, dark fruits and a touch of sulphur. Musky dried fruit like persimmons or longans, a light char/clean smoke and a mineral note.
Finish: Herbal, a touch of oregano/sage, bitter, dry and fairly boozy, honey and dry wood shavings.
The Blab: This is pretty decent and punchy I can see why some folks would love this, especially those for whom it's cask strength or bust. It loses steam because of that dry/bitter oak finish coupled with the sharpness at the tail end. I was often reminded of a Canadian whisky when drinking this. The char/smoke note is very faint when drinking the whisky but the empty glass after a few hours had a scent that reminded me of mesquite.
I'm glad I tasted this and if I could get the 500ml bottles at a good price I might consider keeping a bottle of this around.
Find where to buy Nikka whisky