Nikka from the Barrel
乾杯!
5 785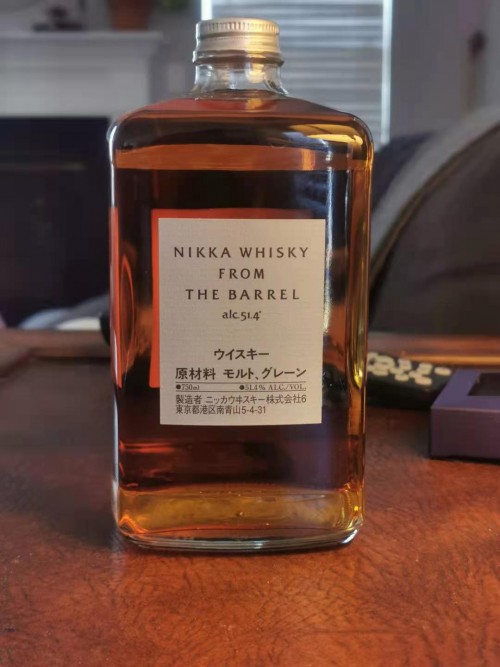 Nose

~

Taste

~

Finish

~

Balance

~

Overall

85
Distribution of ratings for this: brand user
This is a fresh bottle of Nikka Whisky from the Barrel. Being fresh, I've let it sit for about 30min before giving it any attention. I'm acting as a mule for this bottle for someone in a board controlled state where this isn't for sale (land of the free huh?). This is 51.4%abv and I have heard good things about it. But everyone's palate is different and I generally haven't been a huge fan of the Japanese whiskies I've tried so far. But this will be the highest proof whisky I've had from the island nation. Neat in a Glencairn.
Nose: The first thing I notice is that this is smoky! I was not expecting that. The nose reminds me a bit of Hakushu 12. A tad smoky and floral, with a good helping of vanilla and a bit of grain. Not a ton of heat for something over 100 proof. Ah, there must be some sherry casks in this blend. It took me just a second but now I notice sherry. Some grapes, plums and raspberries. It's a very subtle sherry though. An interesting nose to say the least. It's actually changed a lot since I started nosing it so I may let it sit for longer... Yes, the longer it sits, the less smoke and grain there is and the more of the sherry fruit comes out. It really changed a lot in less than an hour of air time.
Palate: Ok now this is interesting. This is a whisky first for me. I get smoked salmon from this. No joke. This palate has a lot going on. The smoked salmon is the first thing that comes to mind. Some grain. Some vanilla and honey. Then the sherry fruits come in after everything else. The first sip was literally head turning. I've never gotten fish from a whisky. Salinity, sure (Talisker, Springbank) but those didn't have a smoked fish taste. I must say this is unique. I like it personally, but I'm sure smoked fish would be a very subjective quality in a whisky for most people. I find it refreshingly new (for me) and interesting.
Finish: More like the nose on the finish, less sherry, more smoky with a hint of seawater. After everything else some honey and vanilla linger. This must have been a good mix of different casks. I'm getting sherry notes and bourbon notes with equal intensity. Well done whomever blended this.
Overall: This is an interesting whisky and I really enjoyed breaking it down. There is a lot going on. I would love to try this after another 5 years in oak, I think it would do wonders. Would I buy one for $70? Maybe, there are other things I would buy first though.
Find where to buy Nikka whisky