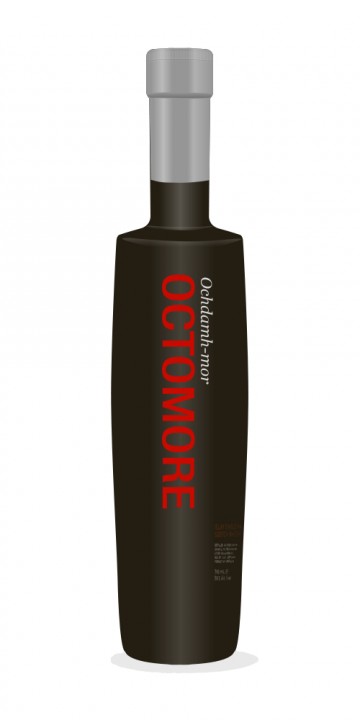 Christmas tasting at the Water of Life Society at the University of Edinburgh, perfect evening, great whiskies, good company, a perfect evening. To top it off, they had a surprise: a real "punch in the face" whisky and God, was I in for a treat.
Octomore 5.1, the peatiest whisky on the planet 169 Ppm, a malt so good that I still wake up in the middle of the night thinking about it.
Well, after the 6 preceding drams, one would expect that my nose would be well saturised, but from the moment that the first bottle was cracked open about 3 meters from me, a wave of aromas came rolling in.
Nose: Peat, but not from a campfire, no this is a wildfire of peat, but at the same time rich of fruit: Cranberries but also hints of Orange, Dark Chocolate,Vanilla, a maritime breeze somewhere in there: a faint smell of Salt. There is just so much in here
Taste: And the gates of heaven open: Heavily Peated,but surprisingly smooth, Iodine, Toasted Barley again the fruit, but new flavours like Grapes, but also spices: hints of Cinnamon and Ginger
Finish: a long warm burning but pleasant sensation, a long lasting intriguing taste of Peat and Oranges on your tongue and a warmth that reaches every corner of your body.
To me this one is verging on the divine. The next morning I picked up a bottle in a shop on the Royal Mile in Edinburgh.
I finished about half of it by the time I had to return home. But fate (or that is the ground handling services at Edinburgh or Brussels Airport) struck me a cruel blow. I packed the metal container with the bottle inside in a duffle bag together with my clothes. But as soon as I went to retrieve my checked-in luggage at the luggage carousel, a strong smell of peat indicated that things had gone terribly wrong.
Sadly enough,the dented metal container is the only souvenir I have left.
I think you can always edit your review if you want to change the score.
Octomore has an interesting effect on people. It seems to make them buy a bottle. A year and a half ago I was visiting my inlaws in a province where you can get spirits in good variety and at a reasonable price (not Ontario), and we went to a high end liquor store. I was commenting in the Octomore (they had 3.1 and 4.1), lamenting it wasn't available in Ontario, and one of the salespeople walks ip and asks if we want to try it. With no intention to buy I immediately said yes. It was so good, I "had" to buy a bottle of the 4.1 (a lightweight compared to the 5.1 at only 167 ppm). The most expensive bottle I have ever bought myself.
It sits on my shelf until the "right" time coincides with the right people..
The 99 score is high, it even looks a bit unprofessional, but to me personally this is the best single malt I've had so far. Who knows, maybe in the future I will come across other malts that will make this one look like a dwarf and I'm always open for suggestions on drams that may top this one. But untill that day this will remain the ultimate experience for me.