Pike Creek 15 year old wine barrel finished
A new favourite
9 394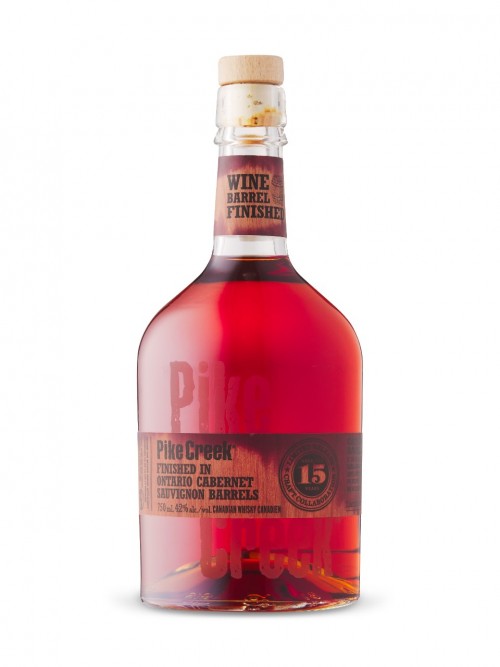 Nose

21

Taste

23

Finish

25

Balance

25

Overall

94
Distribution of ratings for this: user
Brand:

Pike Creek

ABV:

42%

Batch:

Bottle 0511
Santa came early and brought me this lovely bottle of limited-edition whisky from Corby. Finished in Cabernet Sauvignon barrels from a Niagara winery, it has a beautiful amber colour with ruby accents.
The aroma is mild. Being mostly column-distilled corn, the grain is pretty soft-spoken here. Familiar hints of brown sugar and butter toffee combine with wood shavings and dried orange peel. Not a lot of overt fruitiness. Rather than expressive, the nose is suggestive. Blackcurrant jam, faint hint of grape, and a touch of warm spice.
On the palate this opens up tremendously. Sponge toffee and peanut brittle at first. Then the oak kicks in as the whisky hits the back of the tongue. Rather than sweetness, the wine cask provides additional dryness. The buttery, voluptuous mouthfeel of well-aged corn whisky is all over this as well. Like Wiser's 15 taken into a higher dimension.
The finish is where this whisky really shines. The oaky dryness and wine tannins build into a lovely spiced finale, not just of taste but also texture; you still have the sensation of whisky on the tongue long after you swallow.
In contrast to so many young front-loaded whiskies which offer instant gratification but have nothing to back it up, this one builds from a mild nose and smooth palate entry into something really memorable and grand. Pike Creek has been my least favourite of the Northern Border brands, at least until now. I feel lucky to have gotten my hands on a bottle of this before it's gone.