Pike Creek 21 Year Old Single Malt Cask Finish
Northern Border Collection Rare Releases I of IV
1 387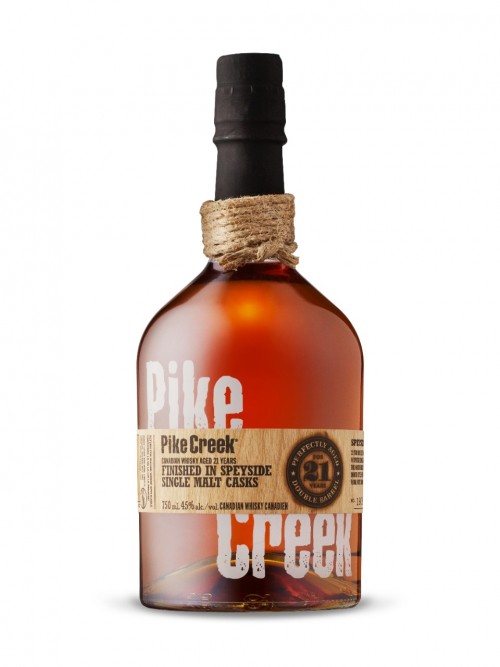 Nose

23

Taste

22

Finish

21

Balance

21

Overall

87
Distribution of ratings for this: brand user
I meant to review all of these a few months ago, but hey life gets in the way.....these are Corby Distillers' new range of premium Canadian whiskies (they also include Gooderham & Worts 17 Year Old Three Grain, Lot 40 12 Year Old Cask Strength and Wiser's 35 Year Old). This one, Pike Creek 21 Year Old, was finished for nearly 6 months in Speyside malt whisky casks (not sure which distillery, if you know, please comment).
On the nose we have deep, dark fruits such as Medjool dates, rum raisin and seriously overripe banana. Rye spice takes the lead, ahead of butterscotch, soft vanilla and butter tart. Red apple skins. Heavy oak. A slight hint of Speyside peat? Hm not sure. Water really improves things, adding pepper and minerality. As rich and round a Canadian as you will find.
Very smooth on the palate with more rum raisin, rich caramel, blackberry and baked apple. Cinnamon, cloves and black liquorice. Water adds a bit more spice. Very pleasant - maybe a little too pleasant - with some nice richness and depth.
The finish is surprisingly nondescript, with some pepper and oak. I like it, though I don't love it. While the richness speaks to the twenty-one years in oak, the finishing is lost on me. Unlike both earlier expressions - the Port and Rum barrel finishes - I can't quite detect where the influence is. I do get a bit of peat (or maybe that's the char?) and berry fruits that might speak to a sherry cask, but it's not enough of a difference from the 10 Year Old. Side by side, the 10 Year Old Rum Barrel Finish is darker in colour, though thinner on the nose and palate. However, they are still very similar, so hopefully next time they can find a way to differentiate the two better.