Rosebank 14 Year Old 1991 The Ultimate
Timid
3 183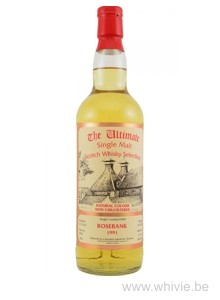 Nose

~

Taste

~

Finish

~

Balance

~

Overall

83
Distribution of ratings for this: brand user
It had been way too long since I last tried a Rosebank. The news that Ian MacLeod's plans to reopen Rosebank have been approved, has put this legendary Lowlander back on my radar. Happy dance. This is only the 15th Rosebank I try. It was bottled by the Dutch Van Wees – in their The Ultimate series – and has been sitting on the bottle for more than 10 years. Dusted off the bottle and poured me a dram.
The nose is fresh as spring with vanilla, apricots, a bouquet of flowers and lime, with a surprising note of quinine and candle wax. Some rose water and hessian, freshly cut grass, white fruit, more vanilla and a drop of flowery honey. In all honesty very fresh, but also very light and far from complex.
The body is too light to impress. Almost watery in fact. Pity. The taste is rather flat as well. Timid. Or delicate, depending on your mood, I suppose. Anyway: citrus (grapefruit in the lead) followed by quinine and dried grass. Hint of marzipan. Just a sprinkling of pepper.
Medium long finish on hay and white chocolate. Surprisingly spicy on pepper and ginger with a bitter note at the death.
Very approachable, summery, light Rosebank. Nothing wrong with it, but no champion either.
Find where to buy Rosebank whisky