5:13 AM : Lord knows I'll do anything for whisky. Including waking up at ungodly hours to catch a nerve wracking bumpy flight to Islay. Time to get ready.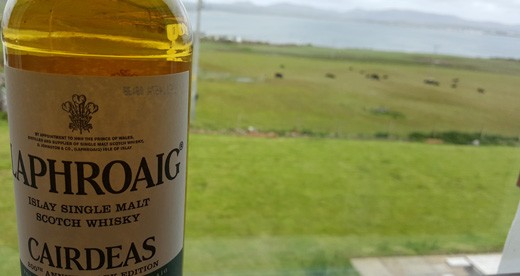 7:00 AM : Need something to calm the nerves. Deciding between a Bloody Mary and a tall glass of orange juice. I think I'll have both. Just in case.
8:30 AM : The only part of the trip I'm not really looking forward to. Getting on this dinky little plane. But hey, a man's gotta do what what a man's gotta do.
2:00 PM : Just finished visiting Laphroaig and managed to pick up the 2015 Cairdeas which is a lovely dram! Managed a couple of tastings while we were there. Sampled the (yet unreleased) Laphroaig 21 which will knock your socks off!! Amazing whisky. Also tasted the new Cask Strength 10 Year Old Batch 007. Very nice. Though I feel they missed a trick there by not doing something with England's most famous spy. But I will let their Marketing department worry about that!
3:00 PM : Decided to stop over at Ardbeg for a quick look and lunch. But more on that later!
4:15 PM : Checked into our farmhouse. Now going to go and sample the Laphroaig Cairdeas sitting outside in the Islay chill.
Nose: Typical Laphroaig iodine and sea weed. Hint of char. Quite sweet though. Some white fruits. Touch of honey. Nicely layered.
Palate: Hint of peat. Quite sweet. There's a pineapple citrus to it. Vanilla. Custard. Both sweet and salty at the same time.
Finish: Nice and long with a hint of oak.