7:09 AM : Decided to stay in a bit after two days of fairly non-stop whisky drinking. Woke up to the sun streaming in through the window. 'What a glorious day this is going to be!' I said - just before it started raining sideways! I can understand why the Scots are so frustrated all the time!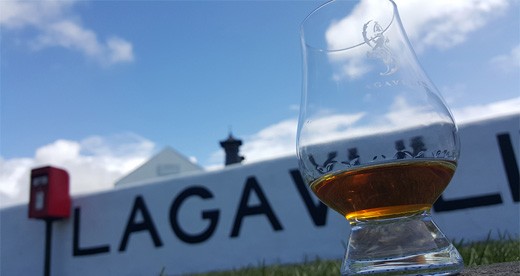 Day #07 of my Feis Ile diary
11:25 AM : Decided to head on over to Lagavulin for a distillery tour. Nice to be inside one of the most iconic distilleries on the island. The tour took an hour. Could have been faster, though, in my opinion. But still really nice. Got to put our noses in the washbacks! Ended with a dram of the Lagavulin Double Matured.
12:50 PM : Had an awesome idea to drive over to the Kildalton Cross (six miles from Ardbeg) and open up my 1981 Ardbeg Kildalton. What a dream come true that was. Such a lovely whisky and so full of flavor. I can understand the obsession people have with this distillery. Add to that the surreal landscape and setting of the Kildalton Cross and you'll realize how special that moment was.
2:15 PM : Drove up to Bally Grant Inn for a Douglas Laing tasting. Got there a bit early so decided to have a go at the SMWS Feis Ile bottling of the Bowmore 17 year old. What a gorgeous whisky that!
Nose: Lots of toasted barley. Touch of peat. Hint of char. Toasted papadum. Smoke. As the smoke rises the honey comes through nicely. Still quite savory as the honey is mild. Jute bag. Black salt.
Palate : Black pepper. Honey. Bananas. Rum toffee. Butterscotch. Berries. Hint of dark chocolate. Cinnamon. Lovely mouth feel. Everything feels nice and toasted.
Finish : Quite long. Oak. Spices. Touch of chocolate.
2:30 PM : After the SMWS it was time to sit down for the DL tasting. Had six interesting drams from their collection. Have a look at the pictures below!
4:45 PM : Still not done we thought it was a good idea to taste the Douglas Laing Festival Release. A single cask Laphroaig 14. What a stunning dram that! I'll share the notes on that a bit later but let me tell you it was my pick of the day!