WhistlePig 10 Year Old Straight Rye Whiskey
A Cross-Border Affair
0 685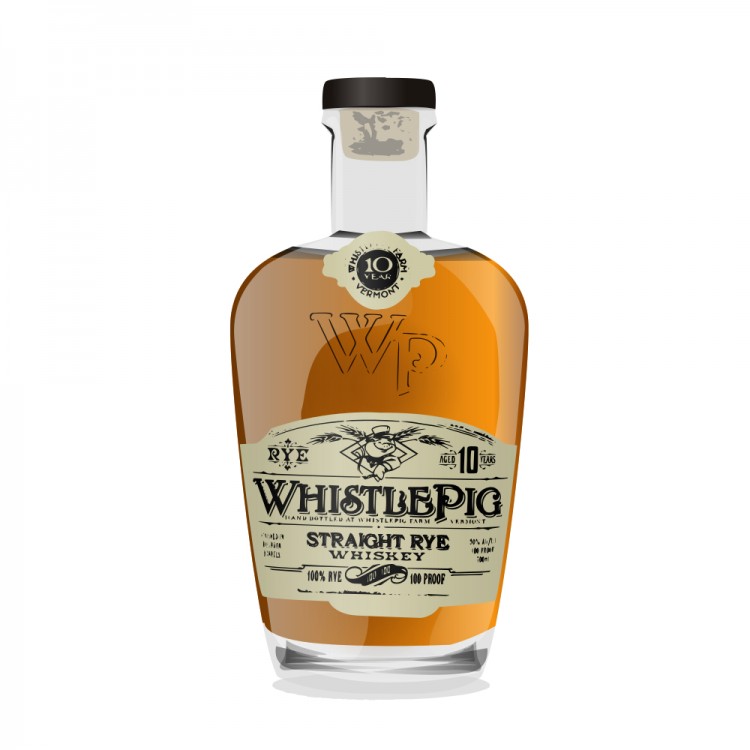 Nose

~

Taste

~

Finish

~

Balance

~

Overall

85
Distribution of ratings for this: brand user
The following review is something of an exercise in contrasts. I have tasted WhistlePig 10 year-old Straight Rye Whiskey independently on several occasions, and report my tasting notes below. I have, however, also tasted it against a benchmark rye: Rittenhouse Straight Rye Whisky Bottled in Bond, which I review simultaneously. Below is the result of my WhistlePig "study."
Although the WhistlePig packaging bears all of the hallmarks of an American whiskey—the prototypically American spelling of "whiskey" gracing its the label; it is labelled as a straight rye, which by US standards implies at least 51% rye grain in the mash bill and that it is aged in charred, new oak; and it claims to originate from a farm in Vermont—it is a Canadian whisky. Dave Pickerell, former Master Distiller at Maker's Mark and now currently Master Distiller at WhistlePig Farm, sourced 100% rye whisky aged 10 years from a Canadian distiller to bottle as WhistlePig 10 year-old Straight Rye Whiskey. The whisky is likely the "flavouring" whisky used by Alberta Distillers in their Alberta Premium Canadian whisky—the only Canadian whisky distilled from a 100% rye mash bill that has been aged for at least 10 years (Alberta Premium comes in a 25 year-old expression).
The nose is instantly expressive, with lots of buckwheat pancake sweetness, nutmeg, and brown sugar. It is also quite grassy. There are hints of banana, toffee, black tea, pecans, mint, and honey. It positively stuffs your nose with delightful scents.
The palate is slightly dry, with touches of grass and apricots. The finish is beautifully long, warm, and honeyed.
WhistlePig 10 year-old Straight Rye Whiskey is not a flawless dram—as much as the Rittenhouse was perhaps too corn heavy for a rye, WhistlePig could use at least a touch of corn in the mash bill for balance—but it is nonetheless a very good one. It is wonderfully flavourful, and reflects the quality of good flavouring whisky. I hope WhistlePig Farm, when it is up and running, eventually manages to produce a whiskey of such quality of its own.